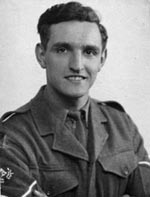 7. D Carrington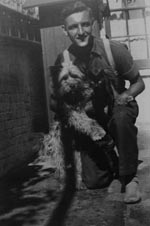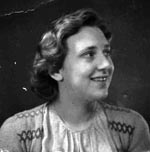 8. Miss Lynn Brown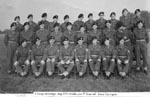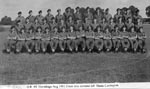 "22480712 Sapper Carrington D. Pack your kit, collect your travel warrant and report to the School of Military Survey, Hermitage by 12.00 hours tomorrow". The dulcet tones of Sergeant Abbot rang out across the parade ground of No. 9 training regiment R.E. at Southwood camp Cove, near Farnborough, Hampshire. Having finished 6 weeks of basic square bashing, and just a few weeks into a very interesting sapper course (see Part 1). I was off to the School of Military Survey, (which I believe is now known as Denison Barracks, since it's rebuild in 1980,) to start a 16 week course to gain an 'A' rating, and if my memory serves me right, an extra 14 shillings a week! The camp at Hermitage had I think, been originally built in W.W.11, as a hospital for American servicemen.
I had been 4 years into my 7 year apprenticeship to become an artisan Lithographer, with the City firm of Eden Fisher, Leadenhall Street, when called upon aged 18, to do my 2 years National Service. I suppose this is why I was lucky enough to be sent to the S.M.S. and if successful in gaining the 'A' trade qualification, one year of my R.E. army service would be deducted from my apprenticeship. Incidentally, being an apprentice within the old city walls, entitled me to apply for, and become, if I so wished, a "Freeman" of the City of London.
The course, O.R.64.L.M.M.,was due to start in August 1951 and I was duly placed in 3 Troop (see 3 Troop photo, middle row, 3 rd from left, and O.R.64 photo, front row, extreme left). Some names that spring to mind from that time were; Lt. Attenborough, Sgt. Dixie Dean, and Sappers Elliot, Ferris, Milner, Carson, Jock Birrell, Ron Jones, Alfie Coombs, John Carr, Bridges, Curzon and Barfoot; and a certain M.T.(Motor Transport) Capt. Crystal, who was I believe, later involved in a road haulage enterprise!
While waiting for the course to begin, the unit was taken to a spot on the Kennet and Avon canal near to a wood, where we were to defend a small bridge as part of a huge nationwide exercise, Northland verses Southland ,which was in full swing at this time. We were there some three or four days and nights. Being so near to the river and the watercress meadows, the midges at night were a real problem, and were eating us alive! My own problem came when the officer ( Lt. Attenborough) placed me deep into the wood as a listening post, to warn of any 'enemy' approaching. Having had very little sleep for three nights, I had no intention of falling asleep when I sat down on a fallen log, and especially with all the dry dead wood branches lying on the ground, anyone treading on them would sound like a gun shot. Alas, when I awoke, my rifle was missing! Facing a 'Fizzer'(252 charge,) or even a possible Court Martial offence, as Sgt. Dean informed me, I waited with some apprehension our return to barracks. Apparently Lt. Attenborough had come round to check his outposts, found me fast asleep, and had taken my rifle!
On our return to Hermitage that night I was told to report on sick parade next morning, because of the swellings on my face caused by the midge bites. Of course next morning on sick parade, all the swellings had gone down, and to add to my woes the M.O. (Medical Officer) accused me of malingering! After sweating for a few days over the loss of my rifle, I was, much to my relief, given a good old rollocking, and an extra duty,('Jankers'), laying a dozen flag stones around 3 Troop hut, by the afore mentioned Lt., who incidentally played right-half to my right-back in the unit football team (it's not what you know etc....!)
One soccer game I remember was when we played against a local college for deaf and dumb students, - no shouting or arguing with the referee on that occasion then ! Although we didn't do that in those days did we ?
Another more pleasant episode in the Summer of 1951 was when we all went in a mass convoy to Saunton in North Devon. With two or three others I was in the back of a 15 cwt Bedford, which believe me can be pretty rough on the nether regions on a long journey! We had from time to time to jump out of the wagon and dive into the ditch to shield from a simulated air attack. The first night we camped under canvas near Warminster, where we were attacked by very keen students from the Army School of Infantry. Thunder flashes, blanks, lots of shouting and heavy rain adding to the fun (I think we lost!).
The small camp at Saunton comprised a few Nissan huts, and was just a stone's throw from one of the longest, and at that time, most beautiful beaches on the North Devon Heritage coast. After a little work in the mornings, we were all off to the beach in the afternoons to enjoy the lovely summer weather. The village of Braunton was just a mile or two along the B3231 where local 'Scrumpy' at 2 old pence a pint could be quaffed at the local hostelries. Other excursions on this 'tour of duty' included visits to the Army Unit of Amphibious Warfare at Westward Hoe, the harbour at Lynmouth, the Barnstable-Lynton railway, and the port at Ilfracombe. As all good things come to an end, we had to return to barracks at Hermitage some 2 weeks later to start our 'A' trade course.
I remember during my time at Hermitage I had to do a couple of guards, and one or two fire pickets, which were great fun, hitching the pump up behind a 15 cwt and squirting water at anyone or thing within range! I'm sure all of us will know that the best turned out member of the guard is designated 'stick man', which means he doesn't have to do the 2 on 4 off guard duty, but does have to do some to'ing and fro'ing, including the early wake up calls. The duty cooks always seemed to be the hardest to wake up at 5.30am and sign the book, cursing you at the same time for disturbing their 'beauty sleep'.
The Hermitage camp at this time could not boast a parade ground, so musters and parades were held on the road near to the admin offices. There was also a covered walkway between the various buildings.
Most weekends, unless you were on duty or it was a church parade, 36 hour passes were issued. The coach from the camp left for London's Victoria coach station at 12 noon SHARP! So all work etc; after breakfast, be it a 10 mile forced march, or as on one notable occasion, laying a 40 foot concrete roadway outside the Officers' mess, was completed in double quick record time! The return journey by coach in the early hours of Monday morning always stopped for tea and a 'wad'(cake) at the all night coffee stall in Reading.
The town of Newbury, some 3 or so miles from Hermitage, was served by a not too frequent bus route. One early evening I caught the bus to go into town and on it met one of the civilian young ladies called Lynn Brown who worked in the camp's admin offices (see photo). I told her I was going to see the film Showboat (starring among others Ava Gardner, Howard Keel, Kathryn Grayson, and Joe E. Brown), and asked if she would like to come along too; To my amazment she agreed ! And so I now had (until I left Hermitage at Christmas) a girlfriend who lived in Newbury, played a mean game of hockey for Reading, and whose widowed mother provided the best of high teas! (We were always hungry in those days).
We often went dancing at the Corn Exchange in Newbury ,these dances were always very well attended ,but owing to the presence of so many American service men from the nearby airbase at Greenham Common, partners were very hard to come by. With their smart quality cloth uniforms, and large 'pay packets' they always seemed to attract most of the girls - I wonder why? But having said that, they were very generous, and ready to buy the Sappers a beer, and engage in a game of darts or bar billiards.
The camp at the S.M.S. barracks had quite a good N.A.A.F.I. where one could get decent meal at a reasonable price, if you could afford it that is. If you couldn't, then taking a couple of bread slices from the mess at tea time, and mixing them in a mess tin with an OXO cube and half a pint of hot water boiled up on the coal fired barrack room pot-belly stove, would keep the hunger pangs at bay until breakfast next morning.
The block at the barracks that housed the Helio plant and the Crabtree printing presses, received it ' s power from a couple of huge Lister diesel generators. These monsters had to be started up each morning by cranking them by hand. The drill was to have an N.C.O. on the handle, and two or three sappers each side pulling on a rope attached to the handle. This performance was particularly ' hairy ' on cold frosty mornings when the handle could kick back like some deranged mule!
So now at Christmas 1951, with a nice new 'A' trade badge on my arm, and an extra 14 shillings in my pocket, I bade farewell to the School of Military Survey, Lynn Brown, and all the friends from 3 Troop. The army in its wisdom had asked me where I would like to be posted. With the Korean war at its height, and lots of other trouble spots around the world, including Malaya and Kenya, I opted for Germany. True to form they sent me to the Survey Production Centre at Elveden Road, Park Royal, Wembley producing ordnance survey maps, aerial photographs, and overlays! Here I saw out the rest of my service (but that's another story!).
Denis Carrington
26 th August 2008