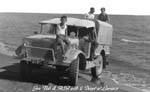 1. ASA = Arnold C.A. Smith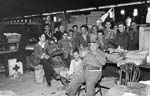 2. See 4. Christmas 1955.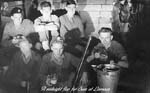 3. Surrounding the Tea Kettle!
He tells us that the front three from left to right are Colin Rhodes, Tom Riding  and Harry Arter.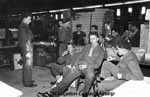 4. Christmas. The move from Fayid to Cyprus 1955.
No prizes for the name of the standing Sapper but who are the others?
Obviously new to the delights of Cyprus, consuming cans of Lager rather than KEO.