13 Field Survey Squadron-Fernhurst-1957-58

My memories of the role of the squadron, other than the Field Troop, are somewhat vague. The OC was Maj "Pop" Covington and 2 I/c Capt Bazley. SSM was Jim Kennedy. Fernhurst was a idyllic setting with the local pub (the name escapes me) opposite.**

The field troop was sent on a detachment to Sennybridge, alas in the winter months!! I can't quite remember the purpose of the task, only the need to recover trig stations. I have no recollection of instrument work. Unfortunately the terrain, at the best of times, was boggy but we had snow and ice to contend with as well and spent much of our time extricating our vehicles from the bog. On one memorable day the 1 ton winch truck sent to recover the bogged in the Landrover became bogged in as did the REME Scammel recovery truck. The conditions were quite appalling and we were not too unhappy to return to Fernhurst in time for Christmas.

An addition from Alan Roberts

The trip to Sennybridge Ranges was to re-triangulate the artillery range control points. I remember it well, probably the coldest I've ever been. We were there in Feb/Mar 1958 as I left about 10 Mar to go and get married on 22nd. They were all glad to get back to Fernhurst for Easter, not Xmas.

One thing comes to mind, we were given a rum ration (navy rum) it was so cold. Most of us were not keen on it and soon we had several bottles of it. This was remarked upon whilst in the local pub in Sennybridge, where upon the Landlord said if we took it in he would have a look at it. The result was two free nights at the pub, with as much as we wanted to drink!

Cheers, hic!

Alan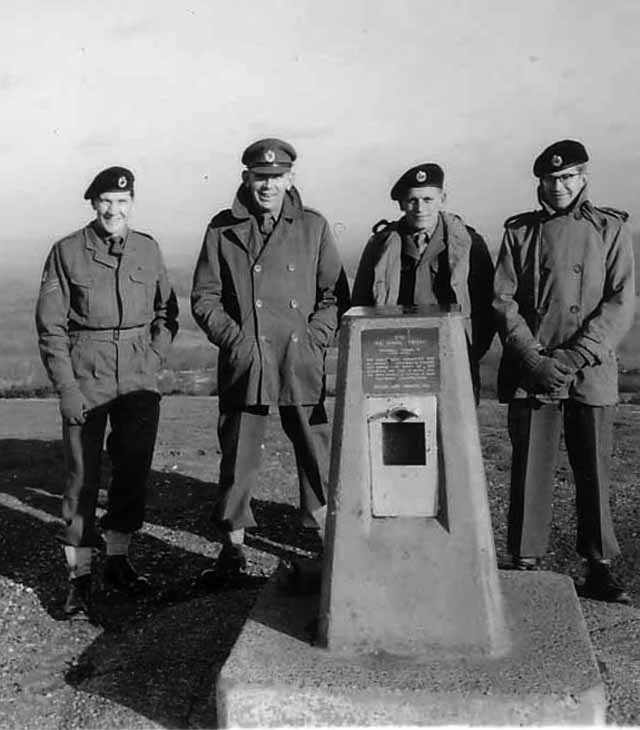 Wilf Reid, Lt Woodley, Eric Davey & Al Roberts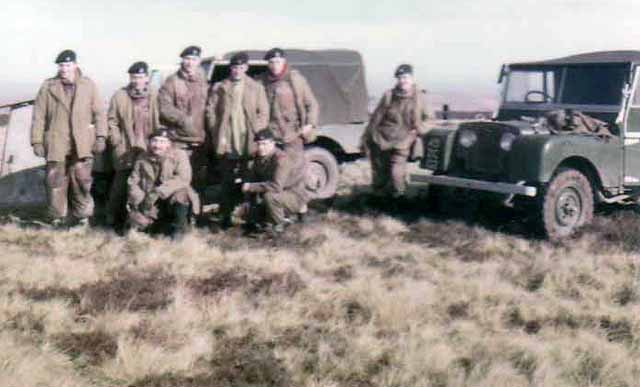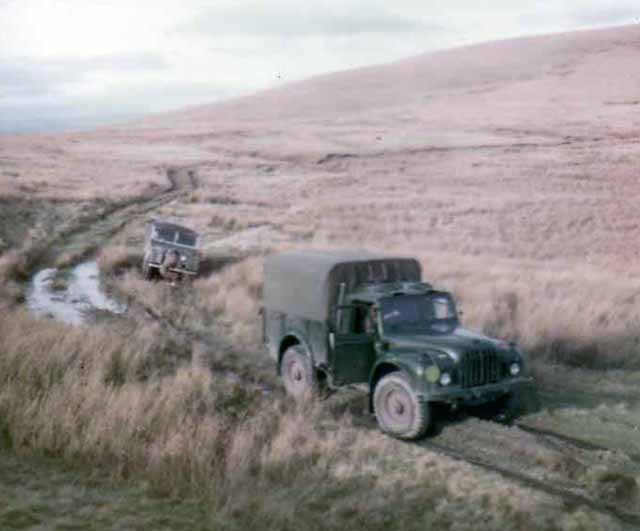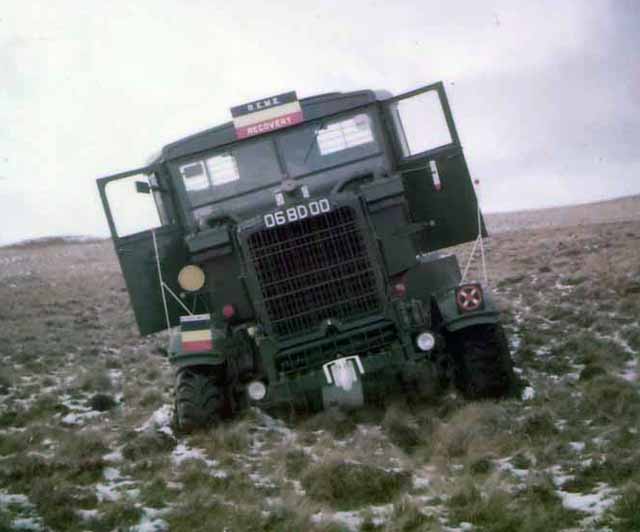 Red faces for REME 1958 saw a small detachment sent to Christmas Island on Op Grapple.
Maj "Pip" Sherwood, myself, Sprs Eades and McKentee (2 NS Sprs)
Joined 25 Engineer Regiment at Maidstone and embarked for Christmas Island. The MOD had purchased every available seat on civilian flights to get the Regiment to Honolulu via America. We travelled- 1st Class -on a TWA Clipper stopping off at New York and San Francisco. There we took another flight to Honolulu. Onward travel was then by RAF transport to Christmas Island, just a dot in the Pacific.
Our role in Op Grapple was to site the various photographic and measuring instruments to be used to record the nuclear detonation which was to be some miles offshore of the south of the island. We also had to site the target indicator, a huge arrow gouged out of the earth and painted with bright orange luminous paint. The arrow was a guide to the aircraft which was to drop the device.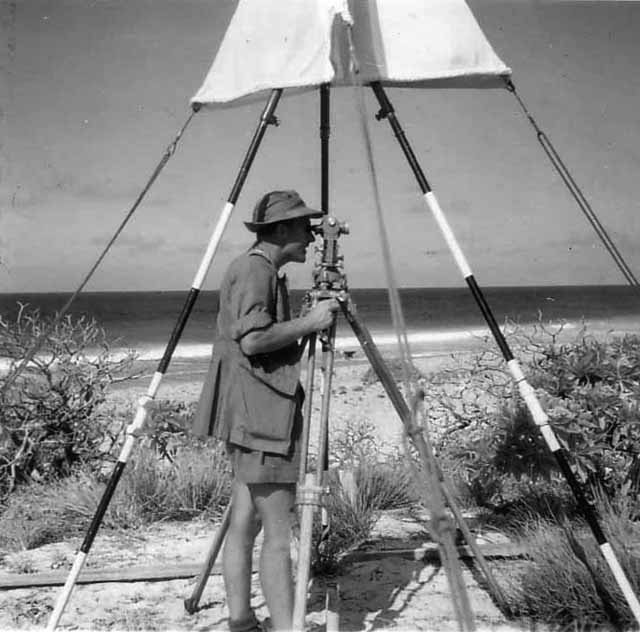 Major "Pip" Sherwood with a T2 under a RA Beacon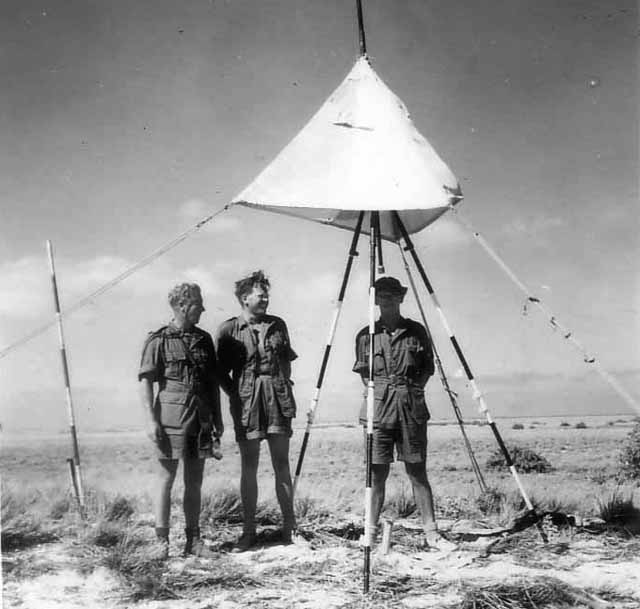 Maj "Pip" Sherwood with Sprs Eades and McKentee (2 NS Sprs)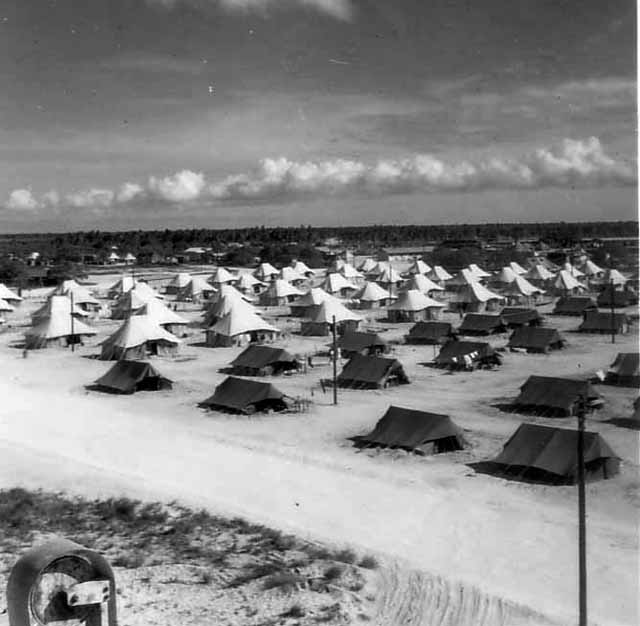 Christmas Island. Sgts Mess lines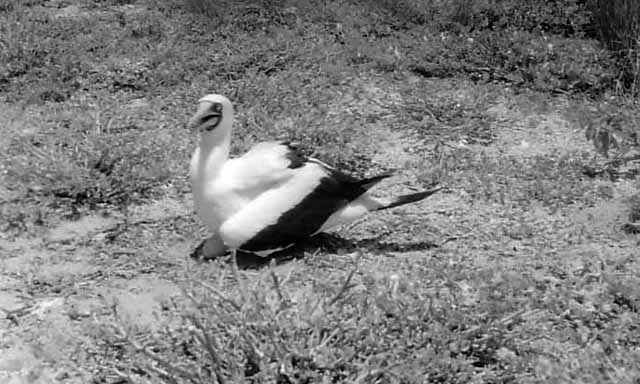 Unperturbed Booby Bird
My lasting memories were the land crabs that infested the island and the Booby Bird colony on the South of the island. These birds were so unused to humans that they could be approached with ease. The tragedy was that the explosion was to wipe out this bird colony and the Regiment undertook to move a large sample out of harms way.
Towards the end of the Operation the Regiment were required to practice the procedures to be taken when the detonation occurred.
Much as I would have liked to experience the detonation and see the thing to the end, our job was done and we had to return to Fernhurst. This time we flew all the way by RAF aircraft landing at Honolulu, San Francisco and Goose Bay, which after the heat of Christmas Island would have put brass monkeys to flight !!
A memorable experience but not listed as my favourite posting.
Eric Davey
**The pub opposite 13 was "The King's Arms", a short walk down the lane was "The Duke of Cumberland". Other popular hostelries were in Midhurst, "The Wheatsheaf" and "The Angel Hotel", there was another at Petworth, a haunt of the polo girls but it's name escapes me. In the other direction was Haslemere but I very rarely went that way, maybe to the cinema but not sure. One regular at the King's Arms was Pop Tutton, the Squadron clerk who moved between Sapper & Lance Jack so often it was rumoured that his tapes were fitted with zips!
Albie
With thanks to Eric Davey for this contribution.