Lucky to be alive
2 TROOP 19 TOPO SQN
IBRI – TRUCIAL OMAN 1960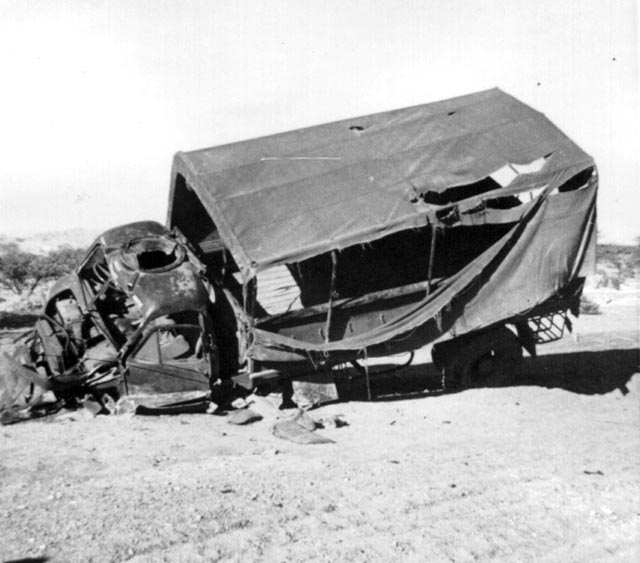 A 2 Troop three tonner returning to camp from the nearby Ibri airstrip hit a landmine. Despite having three people in the cab and several of the Troop in the back none was seriously injured. Looking at the photograph again I think everyone was very lucky to come out of it unscathed thanks to the armour plating on our vehicles.
I think it was Paddle Pearson who was launched upwards through the cab gun turret only to find the same hole on his return to earth.
One evening, a short time later, the local Intelligence Officer brought a handcuffed and very frightened looking Arab into our small clubhouse and declared that he was responsible for laying the landmine. We were offered the opportunity to remove some of his teeth but as far as I can recollect nobody took up the offer.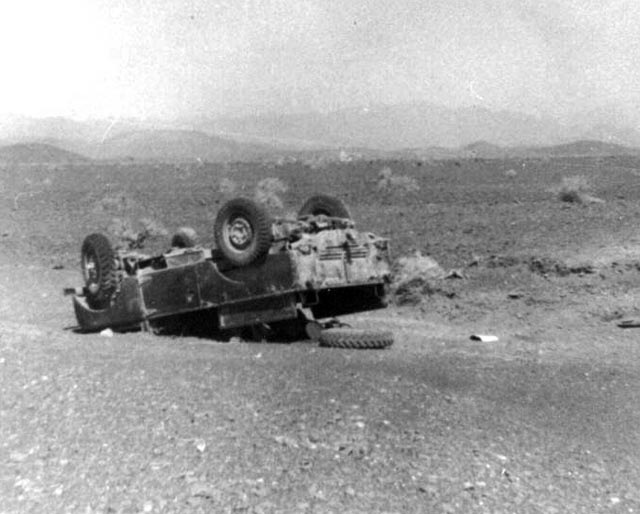 Chasing gazelle at upwards of 40mph across a gravel plain is fine if there are no deep wadis en route.
Geordie Walters, a National Service driver, saw it all too late and as we plunged several feet into the wadi bed we were literally ejected from our seats. I had been in the centre seat with another surveyor (Jock ?) on the passenger side. I vividly remember flying through the air parallel to him. We landed some distance away in the middle of the dry wadi bed. Shocked but otherwise unharmed we saw the upturned Land Rover with wheels still spinning. There was no sign of Geordie and we feared the worst particularly as there was a lot of red liquid flowing from underneath the vehicle. Fortunately, Geordie had managed to extricate himself from underneath the Land Rover and was lying hidden but uninjured and out of our view on the other side. The red liquid of course was petrol and not blood.
As we always travelled in pairs for security and safety purposes it was not long before help arrived.
The vehicle was righted, refuelled and started first time. It had an unusually shaped U bend in the steering wheel which took some explaining to Dick Pollard.
With thanks to Bev Hill for this contribution.