Leaving Zyyi
42 Svy Engr Regt RE Zyyi Cyprus 1963
This was the year that 42 returned to the UK from Cyprus. It meant map production ceased and everyone was assigned to packing up. Some equipment was not returning to the UK and this included a lot of machinery. All this was to be dismantled, crated and put in storage at the Ordnance Depot Famagusta. The MOD arranged for the crates to be made and delivered to Zyyi. Each S/NCO was given a team and all were instructed in machinery preservation. A set of 24 crates constituted the total required to pack a Crabtree Printing Machine. Each section was either crane lifted or manhandled on to its base and once the preservation had taken place (greasing and waterproof wrapping) the crate was assembled around it but before the lid was bolted on the S/NCO responsible signed a Packing Note to go inside. All this took several weeks and eventually the crates were carried on low loaders to the Ordnance Depot.
In 1969 I was stationed at 14 Fd Svy Sqn in Ratingen Germany. I was summoned to the OC's office to be met by two plainclothes SIB persons." Is this your signature?" "Yes " I replied, as I was shown a Packing Note, which I recognized, was from one of those crates we'd packed in Cyprus.
Apparently the need had arisen in the Depot at Famagusta to move the crates to another location. During the crane lifting it appears one of the 24 Printing Machine crates didn't need a crane because it was empty. They opened it and found my Packing Note. I was then asked what I'd done with the contents. I explained that there weren't any contents. MOD provided 24 crates and we packed the lot in 23 and rather than re-number everything we just sent the empty one in with the rest. They asked why should they believe me, as if I'd flogged a bit of a Printing Machine. My reply was that if they really wanted proof of my account they should re-assemble the Printing Machine because then they'd find it was all there.
They eventually accepted my explanation and with a smile -left.
From Arnold Smith
These pictures show a small part of the preservation and packing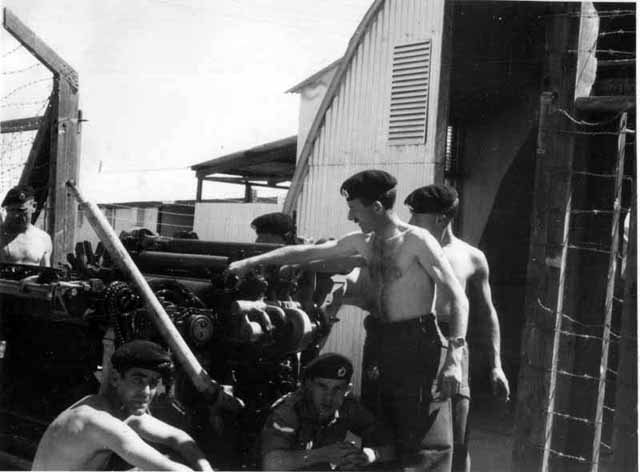 Sgt R. Richardson, Sgt A Smith & Spr P Bevis working
Spr M Adams & L/Cpl ??? resting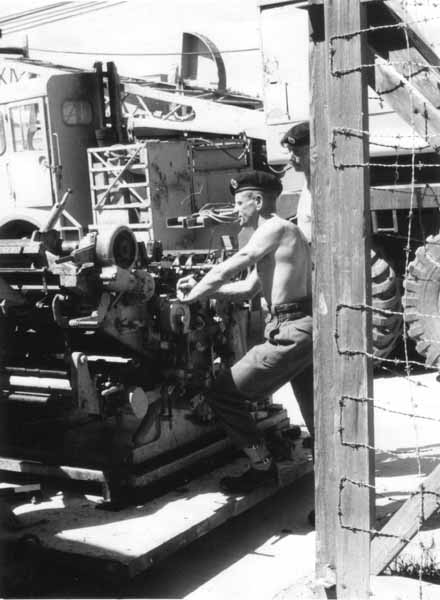 Sgt R Richardson & Spr P Bevis
With thanks to Arnold Smith for this contribution.