Return to the island of Aphrodite
Fifty years and 84 days after my first arriving in Cyprus I and my wife landed at Paphos International Airport last week at the start of a fortnight in the sun away from the English winter. This prompted me to reminisce on the events of half a century earlier.
On 9th August 1960 Jake Jago and myself left the delights of Fernhurst camp in Sussex, the home of 13 Field Survey Squadron RE bound eventually for Cyprus as members of the Cyprus Boundary Commission. The first stop on our journey was Brompton Barracks home of the depot regiment RE. We had a rude awakening with a full kit check. This was our first posting overseas and we were not prepared for such eventualities having only taken what we thought necessary. Sgt Cartright? was not amused and we only escaped because 13 Sqn had left our departure to the last minute, we had to be in Cyprus ahead of Independence Day. We then moved on to Heathrow , if memory serves me correctly, flying to Nicosia on the ever faithful Britannia aircraft. A vivid memory is that looking out of the aircraft window how dry and barren the land appeared to one used to the green of England. This was not the end of our journey, we now moved into the unloved transit camp at Wayne's Keep. How long we were here escapes me as does the mode of transport to our final destination of Episkopi, the home of 47 GHQ Svy Sqn RE and Survey Directorate. A vague memory is that we were collected by a driver from 47 Sqn.
We then met the other members of the Commission, Major T. Whatling RE, Sgt "Sam" Reeder RE and Cpl Brian Williams RE. Administratively we were with 47 Sqn at that time based at HQ Western Area in Nissen hut accommodation for work purposes but living in the main accommodation blocks in the main cantonment. The Sqn OC was Capt B Davies RE, in charge of air survey and discipline was a formidable character recalled from our days at SMS, S/Sgt Dougie Ward RE. SQMS and ic Field svy was to the best of my recollection S/Sgt Whittaker RE. Field Survey staff included Cpl Alan Roberts RE and Air Survey Cpl "Flab" Ford RE. National servicemen completed the complement along with t the office clerk and three drivers, Taff ?, Bert ? and Dave Howard.

Our initial introduction to the task in hand was perusal of the maps and air photographs, which I believe were fairly large scale showing the delineation of the Sovereign Base Area boundary of the Episkopi/Akrotiri Cantonment. This was done in Survey Directorate which was under the command of DD Survey Brigadier J Edge (The future author of "The Retriangulation of Great Britain"
When the field work started we were based a a building on the Akrotiri peninsular amongst the orange groves and grape vines. We were working in conjunction with a Cyprus Lands & Surveys team headed by a Mr Kristophi. The task was to emplace concrete boundary markers and to co-ordinate them. The method of surveying was traversing using "Surveyors catenary" a far cry from the MACCA base measuring system to which I had become accustomed during OP EMILY! Banderoles and spring balances as opposed to straining tripods and weights. As to the instrumentation memory fails me but it was more than likely the ever faithful 3 ½ Tavistock, maybe someone with a better memory than mine can confirm or deny! Later in the task we had to resort to a subtense bar or areas not suitable for traversing.
In December of 1960 my fiancée came to Cyprus on the troop ship Dunera and we were married at the Garrison Church in Episkopi with a reception held in the Unit club at 47 Sqn.
One abiding memory is one day when out surveying our local labourers caught a snake which they pegged out and released when our work for the day was completed. Unknown to us the snake had wrapped itself somewhere under the Landrover only to drop off outside my bungalow in Limassol, what consternation this caused among the local population!
Computations I carried out using a twin bank Brunsviga and Peters tables at my home, unfortunately I succumbed to the common error of applying the temperature correction in the opposite way, an obvious error which was found by Sam Reeder so I had to recalculate! (not a mistake that I was to make again!)
At some time during the proceedings a new member arrived complete with a tellurometer set MRA2 which would make parts of the task easier Jock Collier was that member.
When the Episkopi surveys were complete the team moved to Dhekalia the other Sovereign Base Area to survey the boundaries there, I did not move with them but was posted to 47 GHQ Svy. Sqn. RE. The work here was very varied and included surveying at both the RX & TX Signals sites using a new theodolite a Kern DKM2. The office included NEARELF Survey library which provided much illuminating reading. We were required to complete "Sheet Size Cards" for 42 Survey Engineer Regiment RE based at Zyyi. Another task new to my self was the calibration of Williamson F49 Air Survey Cameras used by the Canberra PR Sqn at Akroriti which involved taking photographs with said cameras of targets previously set out, measuring those negatives on a Cambridge measuring machine and calculating the camera constants. Life with these calculations would have been simpler if the Frieden Electric calculator on the unit G1098 had been working, unfortunately someone in earlier days had moved from forward to reverse whilst at full speed with calamitous results. The Facit was of course the main calculator used!
During my time with 47 there were many changes of staff, Capt Peter Andrews took over as OC, S/Sgt Peter Seward took over Air Survey & SSM, S/Sgt Ron Birch took over Field Survey and SQMS. Alan Roberts was` replaced by Mick Vickers and Flab Ford by Geoff Sonnex. Pete Smith, Bert Farrell, Mick Adams, Peter Lea, Bas Elvin and Lcpl Davies also joined the unit. Other stories from 47 covering the rally of Cyprus, the Theodolites and the round Island survey can be found in 47's pages.
At some time in 62 or 3 47 was disbanded and reformed a No 1 Air Survey Liaison Section RE now based alongside Survey Directorate.
During 1963 a Tech 2 Field Survey course was held in unit which I attended and completed on my return to UK in July 1963.
The Island of Cyprus has changed beyond all recognition, where there were unmetalled roads there are now motorways. The buses which in 1960 were old Bedford discards from the UK are modern air conditioned Mercedes which provide a far superior service to my area of the UK. Dams have been built and on trip testerday we saw a massive wind farm.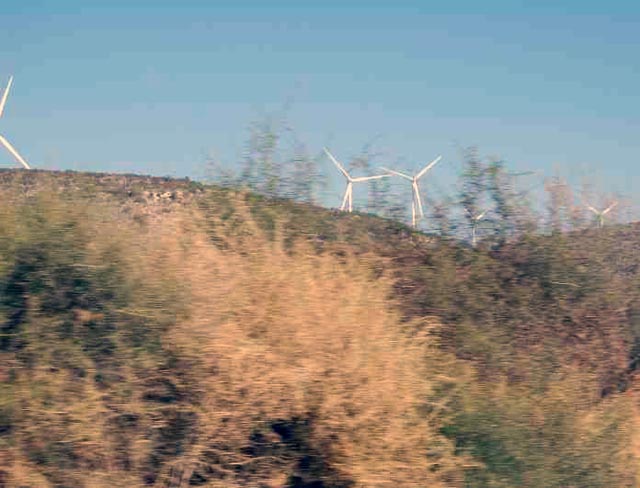 A small part of the wind farm as seen from our small coach.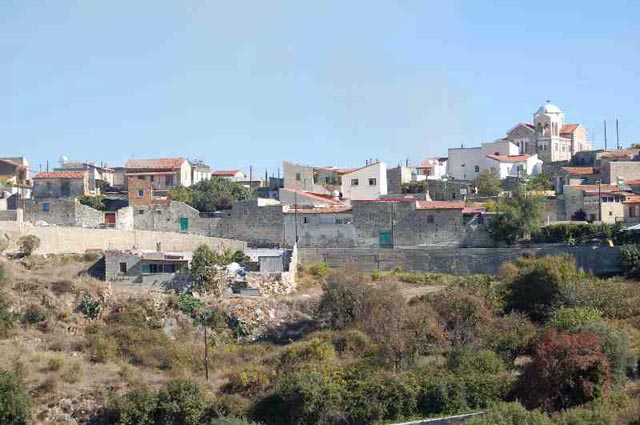 A typical Village.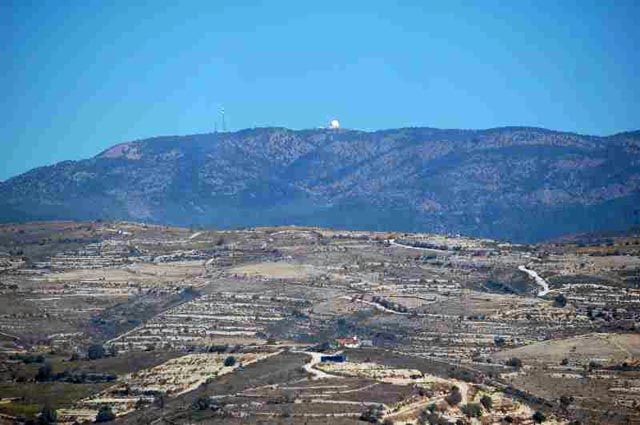 Mount Olympus on the Troodos Range.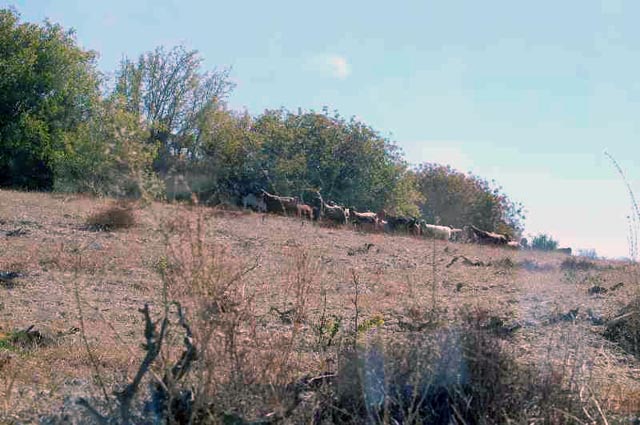 Some things don't change, a herd of goats on a hillside.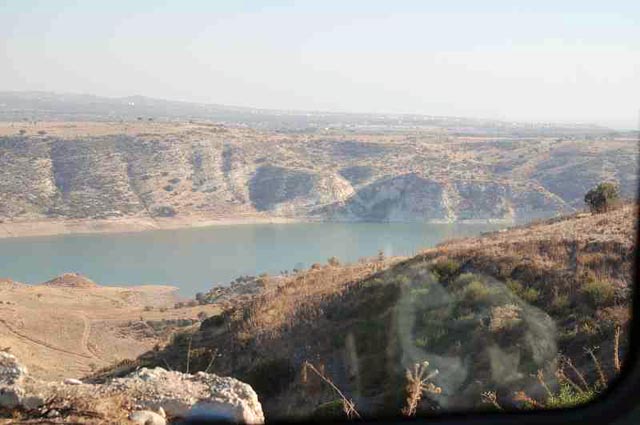 A view of the dammed lake near Paphos.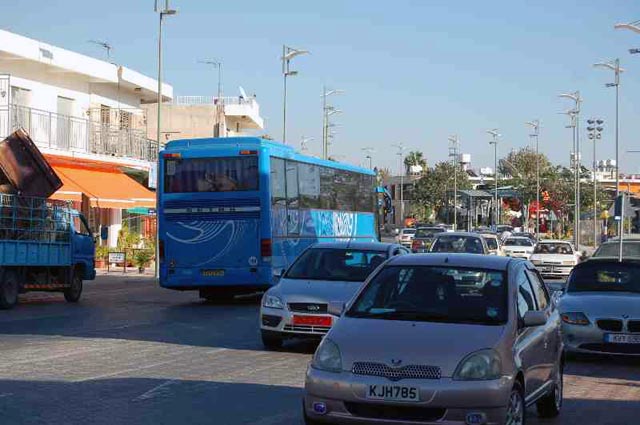 Other things DO!