An Open letter
This medal is awarded to the peacekeeping groups amongst the communion countries for distinguished chivalry, gallantry, sacrifice or loyalty in upholding peninsular of Malaya or Malaysia sovereignty during the period of emergency and confrontation. (Printed on inside of case).
It is very nicely presented, with medal, miniature and ribbon in a case.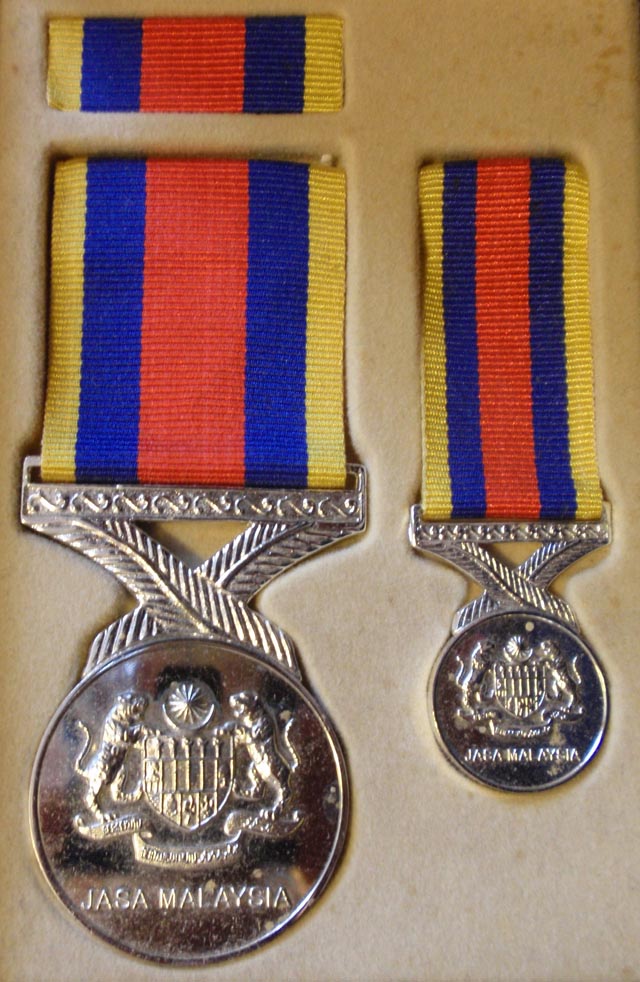 Update - Pat Anderson - June 2011
My husband, Andy Anderson, now deceased, was presented with this medal at Leeds Armories in May 2008. Andy served in Sarawak from August 1964 to February 1965. As I recall, he visited the website, found he was entitled to the medal and applied. There were many others presented with this medal at a special ceremony. Patricia Anderson. Harrogate.
Update - Albie- June 2011
I received my PJM Medal this morning by Special Delivery, apparently the Portsmouth Presentation was heavily subscribed and I elected for a postal delivery for which I paid £6 plus a donation.. No mention was made of the Winchester presentation. My problems arose because my change of address, email and telephone although notified twice did not make it's way onto the database. The organiser for the south of England is Mike Warren, ex REME and RM whose contact details are 189, Hawes Side Lane, Blackpool, Lancashire, FY4 4AA 01253 318239 mikewarren44@yahoo.com Anyone who has changed their address or email is advised to contact him or John Simcock whose contact details can be found in Mike Nolan's submission.
Update - Mike Nolan - June 2011
Dear Rod and Tony, I have just had a phone call from a Mr John Simcock, ex RAF Regt Sgt, a Mancunian, apparently in charge of the database for applicants for the Malaysian medal for those who served there in Confrontation period and earlier.. There is to be a medal presentation in the Winchester Guildhall on 6 July. Recipients can take 2 guests. At present there are 180-200 recipients in the morning session and 160 in the afternoon. Recipients are asked to make a donation to the database management of £10. The medal is not engraved but this can be done by Timpsons apparently. Photographs are provided there and then of recipients receiving medals. The Malaysian Def Attache Brig Jamal will be handing out the medals. It occurrs to me that many in REA (Geo) and DSA who may have put their names down will, like me, have heard no more till now and that an email to membership may be appropriate. This is because, if one's name is already on the database, Simcock can arrange for the applicants to be added to the list for thre 6 July. Potential applicants can also be added to the list now and probably included on the 6 July recipient list. The contact for enquiries is John Simcock, tel (0161-215-3878. Yours, Mike.

**************************
Dear Web-Master, The Pingat Jasa Medal
Notification concerning the Pingat Jasa Medal was given at the Branch AGM in July 2006 with qualifications and an application form being posted on our web site shortly afterwards.
I believe that there must be numerous Branch members who applied, as the majority of those serving in 84 Fld Syy Sqn and /or later in 84 Svy Sqn. qualify for the award.
So, having been one of many who submitted their applications with no reply, I now wonder if anyone in our Branch has ever received their medal?
I raise the subject now for the reason that the Royal Anglian Regiment is holding a medal ceremony on the 2nd February where representatives of the Malaysian High Commission are presenting the medal to over one hundred past soldiers who served with the Royal Leicestershire Regiment during the qualifying period.
It is inconceivable that those 100 plus recipients all applied individually with their confirmations all coming at the same time. One must therefore presume that their local association must have applied 'en-bloc'.
Surely, if ( like me) no medals have been received by any of our members it is perhaps time to request centralised pressure be applied by our Branch Committee, as seems to have been the case via the Royal Anglians.
I respectfully await any comments. Yours sincerely Ron Birch
Update - Dave Swindlehurst
I too eventually decided that I had fallen off the radar, and wouldn't receive my medal - but, like Ron says, out of the blue came a 'phone call from Fred and his team, and within days I was presented with the award by Brigadier General Dato MD Tajri Alwi at a splendid ceremony at Fulwood Barracks Preston. My picture is here! here. So - don't despair - your day will come!

Dave Swindlehurst Spr 23251516 84 Field Survey Sqn RE
Update - Albie
Another bone of contention is the eligibility dates. It must be remembered that Malaysia did not come into being until 1957 and this is their medal and they are only presenting it to those who took part in the second conflict against communist insurgents and Indonesia. I have every sympathy with those servicemen and women who were there before those dates but we have no control over the decision . Strictly speaking Malaysia came into being on 31st August 1963 and was the catalyst to Confrontation.
Timeline Malaysia
31st January 1948 to 31 st July 1960 Malayan Emergency.
1957 Independent Federation of Malaya formed.
31st August 1963 Malaysia formed including Malaya, Singapore, British North Borneo and Sarawak
1962/3 to August 1966 Confrontation, Malaysia Indonesia .
Update - Ron Birch
I can now report that I have just received the medal. A fortnight ago a 'phone call came 'out of the blue' from someone in Manchester inviting me to a presentation ceremony at Spalding in Lincolnshire. The organisation of the entire day was superb and carried out with military profession and efficiency, the medals being presented by the Malaysia Defence Attaché.
However the main reason for this contribution is to update members on the current situation regarding receipt of the award.
I know that many of my friends and colleagues who served in the Far East in the fifties were eligible for the medal and subsequently completed an application form only to wonder why nothing has been heard since their submission. It may therefore be helpful to explain the current situation, information that I have received from various authorities.
By the end of 2007 over 23,000 applications from British ex-servicemen who were eligible for the award were received. These applications were all collated and processed by just one man, Mr Fred Burden (Secretary of the Malay and Burma Association). With the help of his wife Ann, every application was input onto a central database----a tremendous task taking weeks of unpaid voluntary work.
Shortly afterwards Mr John Simcock stepped in with the help of a couple of friends to assist the enormous job of getting the medals through the Malaysia High Commission to the recipients. John has now become the 'Man in Charge', and from my recent conversations I know we have a most dedicated, efficient and hard working man who receives no funding whatsoever from any official source. He and his few friends were determined that every applicant would receive their medal, but even they admitted it would take a great deal of time.
The decision was taken to establish presentation ceremonies in various locations throughout the UK with some 150 to 200 receiving their award from a senior Malaysia High Commission dignitary. The first task was therefore to establish a venue which was accessible by various modes of transport, could accommodate some 175 veterans plus an equal number of wives, and be relatively central to the veterans in that wide catchment area---no mean task!
Once a venue was selected and arrangements agreed with the Malaysian authorities, the task of contacting personnel in the catchment area could commence. Postal contact was, without any funding, financially prohibitive, as even second class postage was too expensive. The 'phone was therefore the only option. Imagine trying to 'phone some 200 veterans, firstly to see if they could, and be willing to attend, then after compiling the appropriate numbers contacting them again with full details! This was, and is, the system carried out by one man, John, again at his own time and expense.
To date some 11,000 applicants have received their medal in this way but there are still large areas of the country that have not yet had a presentation ceremony. Great strides are 'in the pipeline'to rectify this with venues being investigated in Devon, Cornwall, Buxton, Newcastle and Northern Ireland. Expectations are that news will be coming in the near future.
Now the 'small print'—many applicants have requested their medals be sent by post and in the past this request has been granted where time (again just one person) allowed. The time has come when the requests for postal receipt will be classified as low priority. It is just too expensive, too time consuming, and disrupts a system which has taken some time to establish and proved acceptable.
My advice to those still waiting and wondering is, (perhaps in priority order).
• If you have changed your telephone number since applying please inform John Simcock via email jbsimcock@ntlworld.com . Otherwise it will be impossible to contact you.
• Please are patient, 11,000 down, but 12,000 still to go; you will be contacted in time.
• Do not request your award be sent via the post
• When contacted advising you of the date, time and venue please make every effort to attend.
Regards Ron Birch
Any comments to
mailto:webmaster@survey-branch-rea.co.uk