Tim Walker has produced the plans shown below of his recollection of the unit as it was in 1960
The Office Block in more detail.
The following photographs and comments are from Tim.
Batu 84 Office view is a photo taken within Batu Cantonment with the Drawing Office behind my left shoulder. Circa 1960.
The following black and white photos were taken by me with a Brownie Box camera I brought out with me from the UK. The
prints in my album measure three by two inches. The camera did sterling work but unfortunately didn't survive a dunking it got when I was perched on a rock on a river bank, slipped, and took an undignified header into the water.
Batu Offices, photograph taken about 1959.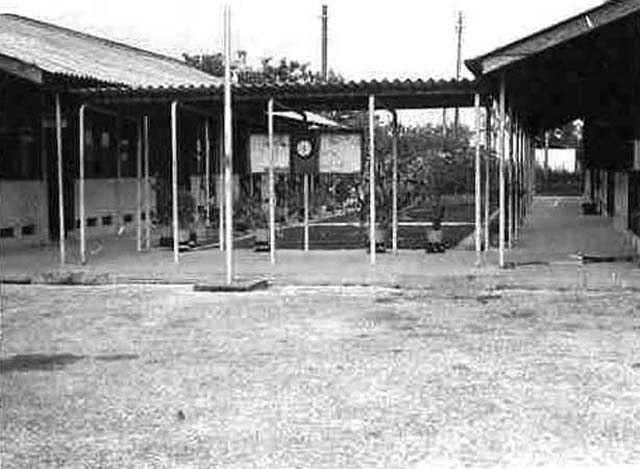 Another view of Batu Offices c.1959.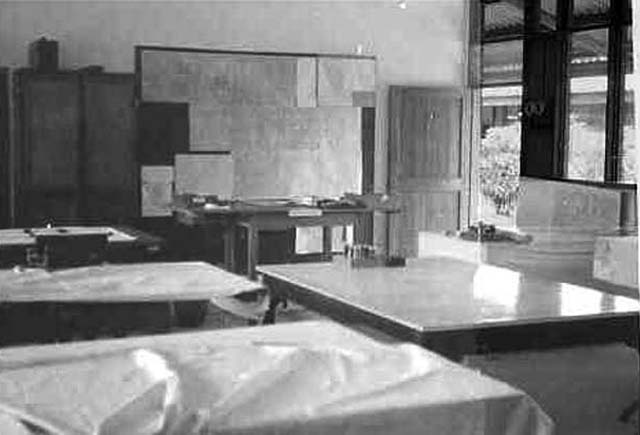 Interior photo of the Drawing Office at Batu in 1959.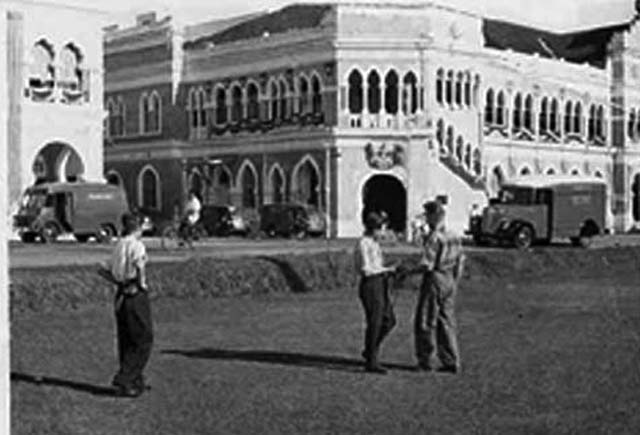 Anyone stationed in K.L. will know this building- the Post Office. Revisited in 2004 it is a Post Office no more and in rather a sorry state, the inside being used for some sort of general storage.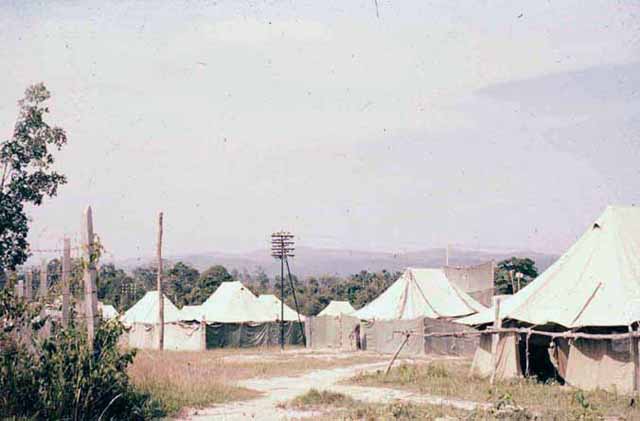 Naka, near Alor Star, was the first detachment I went on. The camp was established well before my arrival and I went from KL by train to Alor Star and was picked up and driven to the camp about an hour away. Alor Star and Naka were not in 'White Area's' and I thus qualified for an Active Service pipe tobacco allowance from Lord Nuffield- patron of the splendid idea.
Time was 1958
The actual location at Naka was Pokok Sena, Kampong Naka was just down the road a tad. Naka was a base camp. I travelled up from Kuala Lumpur in a "QL" none of your fancy "RLs" for me. The day I went up to the Naka the detachments post-run vehicle to Alor Setar was ambushed, fortunately nobody was hurt and no vehicular damage. The CTs must have heard Tim the Pipe would soon be on detachment because they left us alone after that. One thing I remembered about Naka was the shortage of water. Had to shower in "Anchor or Tiger". Really hard done to!
Alan Holden.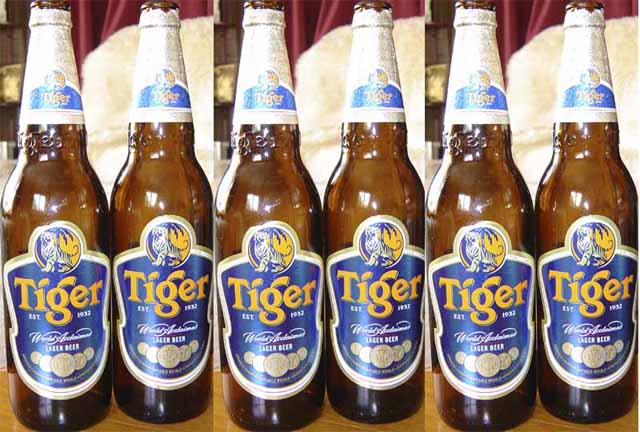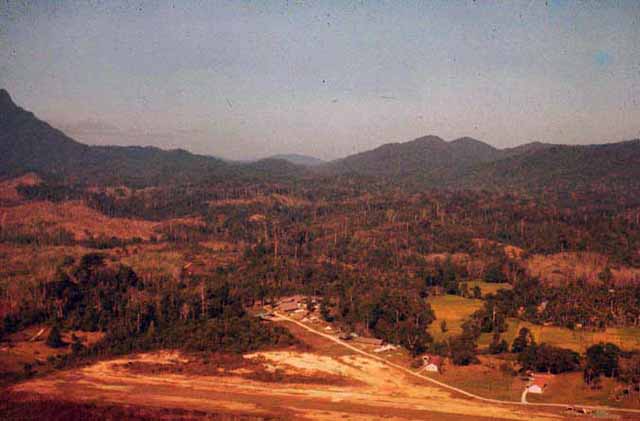 Grik Camp, further East, was set up following 84's work which was completed in the Alor Star region establishing primary Triangulation across the border area. Its big bonus was the airstrip from which we flew to landing zones in valleys in the mountainous areas of north Malaya.. Helicopters in those days could not operate at hover and height with men and equipment so we had to be dropped in valleys and walk to the mountain tops for the survey observations. It was arduous. Theodolites and tripods are heavy items. Most trips lasted two or three weeks at a minimum, food resupply was from the Royal New Zealand Air Force by Beverly aircraft . Because the area was not designated a 'White Area' a contingent of Malay Guards always accompanied us. Communication with Grik HQ was by radio using Morse code. Grik camp itself was dominated by two large wooden structures. The left hand structure at the road end was where the surveyors had an office and recreation room, the other one (lower middle of photo) was an accommodation room .One or other of the two tile roofed buildings was a Government Guest House.
This photo was taken circa 1960.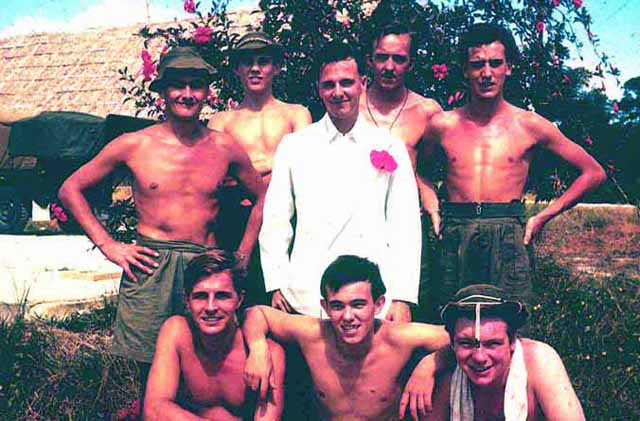 I have no idea what the occasion was or where it was taken, and I cannot name anyone except
Mick Jones front centre next to Alan Holden to his right wearing hat and Graham Taylor back row left. Alby, additional PIR on the group piccie.
Front Row, first left, Pete Riley - Trig surveyor, National serviceman, with ARIBA qualification. If I remember correctly his hometown was Crewe, Cheshire.
Back Row, first right, Don Dunne, MT Corporal, regular. A Midlander of some description, Wolverhampton.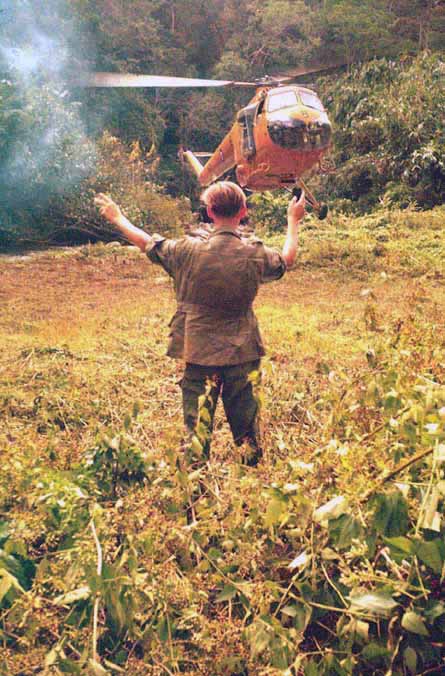 In the mountains of north Malaya we used RAF helicopters to ferry men and equipment in and out using a flat area suitable for landing. They never did hovers. It wasn't easy to find these locations and they had to be in valleys, but when we did we usually had to clear small trees to ensure the rear rotor (its most vulnerable point) didn't touch anything. This meant guiding the pilot in very precisely. To pinpoint our location and give the pilot a wind direction we used smoke bombs, having carried them up the mountain and down again of course. In this photo the remains of smoke can be seen on the left hand side.
This helicopter looks very much like the Westland Whirlwind. In 1966 1 Topo Troop were using a later variant the HAR10 flown by 110 Sqn RAF in Sarawak, this could hover and deliver small parties a 5000ft to mountain tops.
This proves that my helicopter recognition is not very good! Brian Houldershaw informed me that the chopper was a Bristol Sycamore.
Googling sycamore + helicopter + Malaya came up with lots of interesting facts.

They included that the aircraft were flown by 194 Squadron RAF until June 1959 when it became 110 Squadron equipped with Whirlwind HAR4. 110 Squadron also provided helicopter support for 1 Topo Troop at Nanga Gaat in 1966.
I confirm we used Sycamores at Grik and Hercules at Naka. (That's Hercules pushbikes! Tricky balancing topo boards and stereo Mark D on the bikes.)
Alan Holden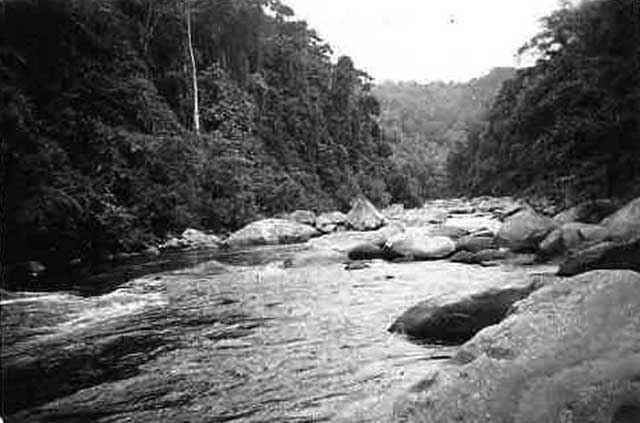 The river named the Sungei Perak was an excellent feature for navigation - from the air that is. Walking fully laden up or down it was a different story as the photo shows. It did provide helicopter landing zones though, there were none on the thick jungle mountain sides. Taken about 1958.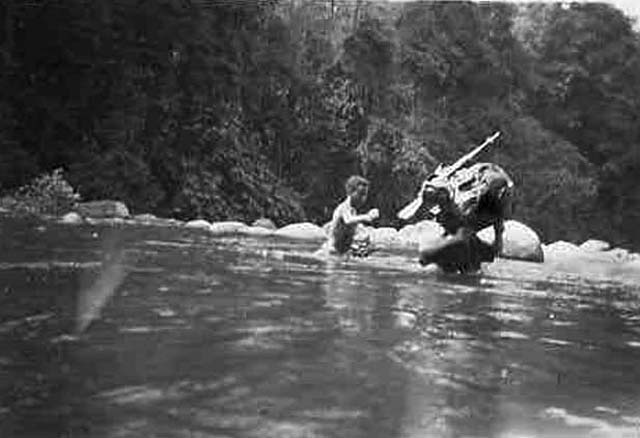 Crossing Sungei Perak yet again. Whichever side we were on for some reason we always wanted to be on the other side. Taken about 1958.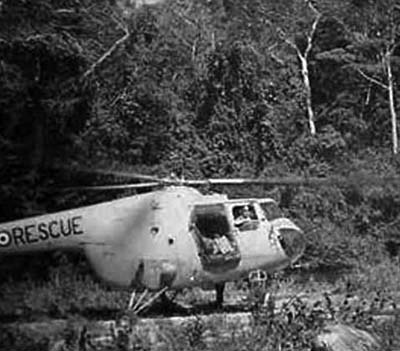 Pilot : Excuse me, do you know the way to Grik ?
Reply : Sorry pal, no idea. Suggest you get hold of a decent map.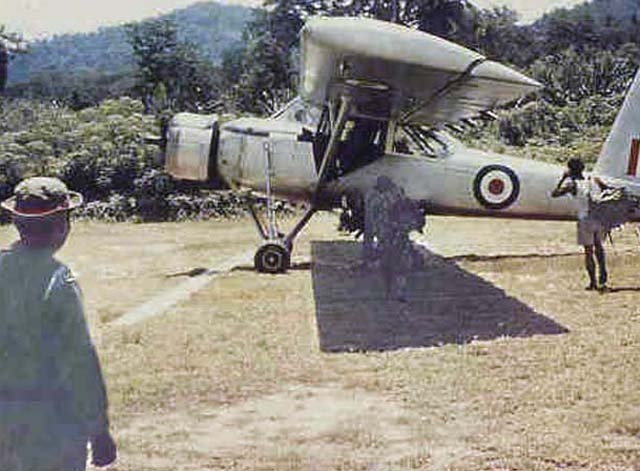 Very occasionally when the landing zone was big enough we used a fixed wing plane like this. They could land and take off on very short stretch of grass.
hey were very slow and the pilots favourite joke was to say " if we get a headwind you will have the unique experience of progressing backwards." - or words to that effect. Taken about 1960.
The pic of a fixed wing, A Single Pioneer. We used these to access the jungle forts, which had airstrips, Fort Chabai and Fort Kemar. We used these as sub-base camps. They were mainly built for the protection of the Orang Asli (Sakai, Senoi etc). They were staffed mainly by Police Field Force units and were stopover stations for the SAS, infantry patrols and us. Alan Holden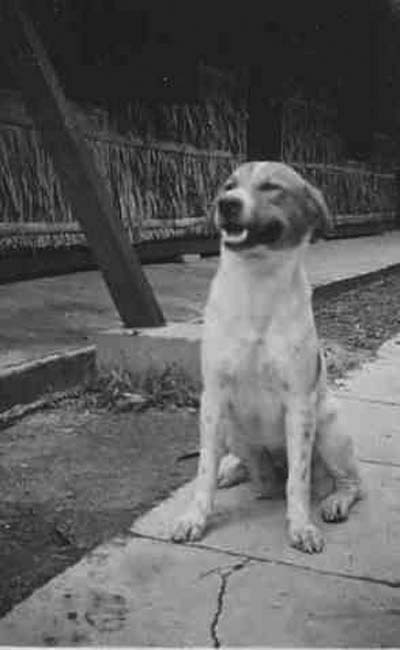 n detachment we had three dogs. One of them was Ned, who had a wonderful nature which can be seen in his face. He had about a dozen masters and took military life in his stride
Comment received from Alf Isherwood
Reference the pictures of the two dogs. Neddy was mine originally, I got him as a pup but I cant remember where from. When I left in 1958 the Malay Pioneer Officer took him over.
Taff caused a bit of a problem once when he killed a goat belonging to one of the Malays.
My last patrol from Naka was to initiate Don Kirk who had just taken over as troop Sgt from Tommy Thompson.
I never knew that Ned the dog was Alf's, but he really was a great character, and would balance on the manhole in the roof of an RL with ease, regardless of speed or terrain. We took Ned all over the place and even in the Ulu. Whilst at Mentakab, after the Malay troops returned from UN duty in the Congo, they poisoned him, because they hated dogs. Bit sad really, and it was immediately following that incident that we moved out of Mentakab barracks, and camped in some basha's on the airfield at Temerloh. Regards Dick Elliott.