Bud Moon's photographic contributions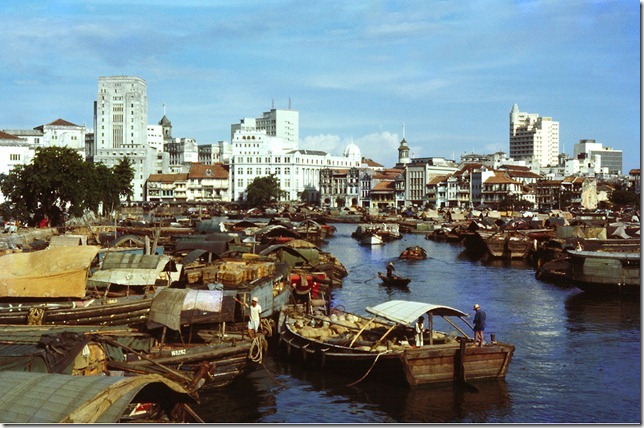 Singapore River c. 1964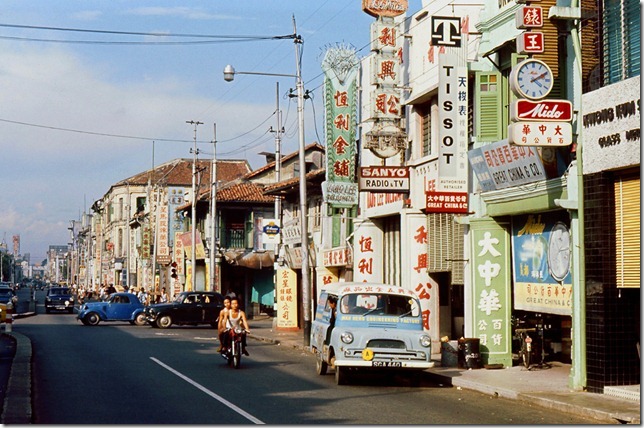 Typical Singapore Street Scene c. 1964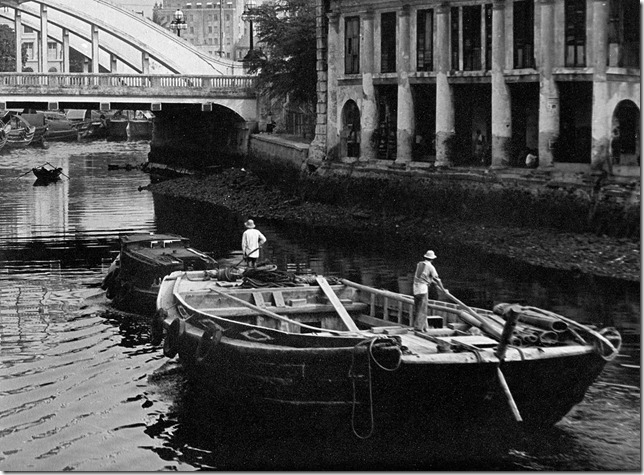 Barge on Singapore River c. 1964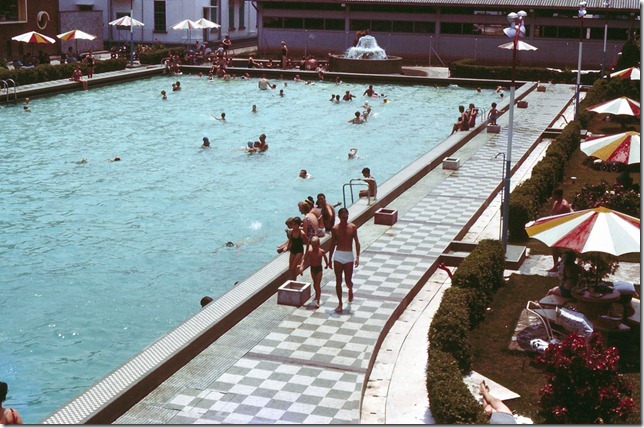 Swimming Pool at the Britannia Club, Beach Road, (opposite the Raffles Hotel) Singapore c. 1964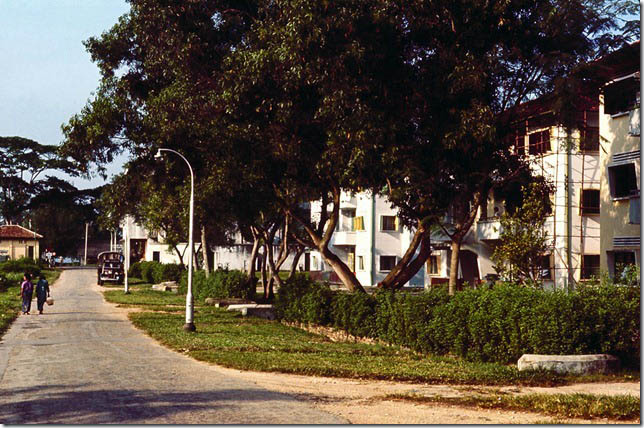 Pepys Road, Pasir Panjang, Singapore, showing 84 Survey Squadron married accommodation on right.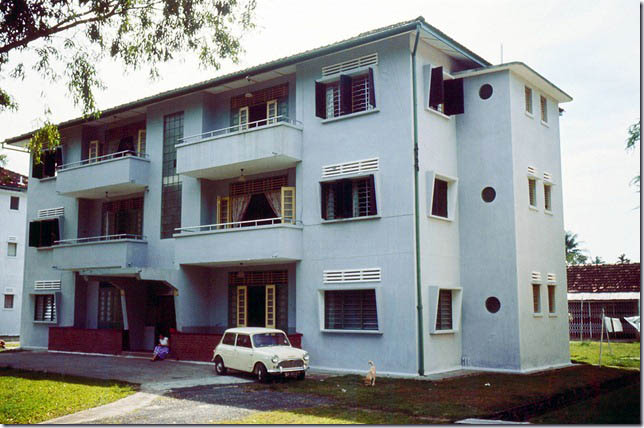 One of the Pepys Road blocks, we lived on the ground floor on right-hand side.. My wife, Tina, is sitting in the entrance.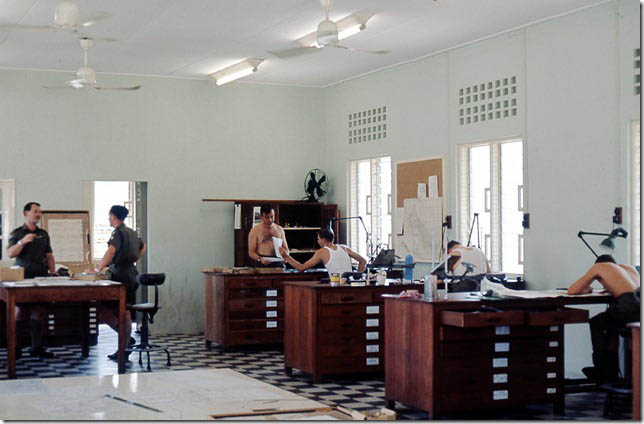 Air Survey Department, Dover Road. c. 1964. Names anyone?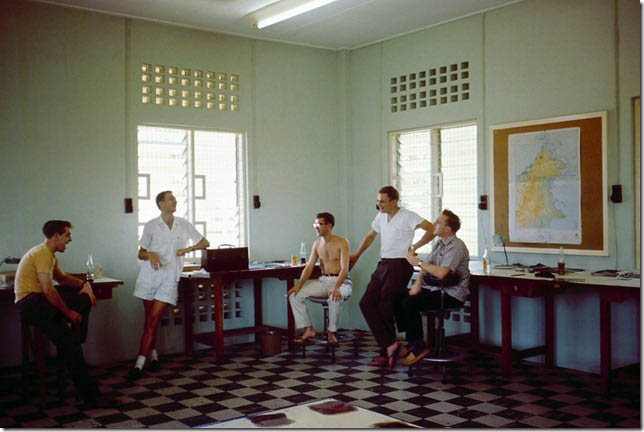 Corner of Air Survey Department, Al Gordon (seated centre), Mac 'Harry' Hawkins (white shirt on right)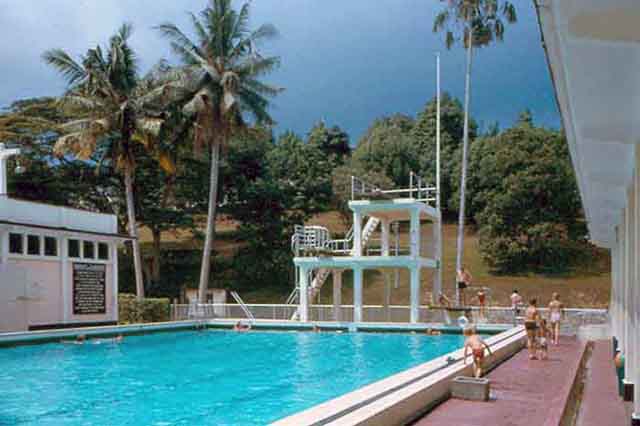 Gillman pool, circa 1964.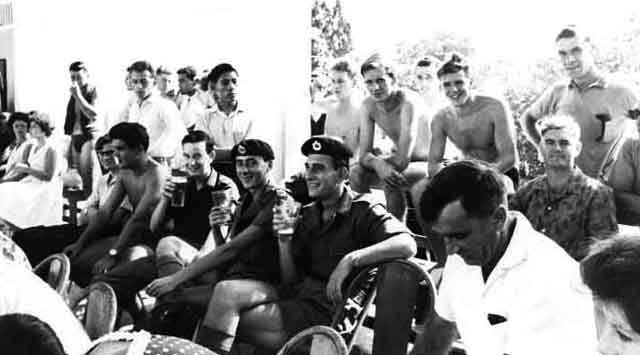 A swimming gala at Gillman pool, circa 1963. Can only remember Slim Donovan (with fancy shirt on right) and Bev Hill, (Standing in white shirt towards the left of the picture).
Could that be Chris Robbins Behind Slim and could the one behind the ladies be Joe Dalziel?
Additional comment from Brian Houldershaw: of two lads sitting in the front and in uniform complete with berets, the left hand one is Mick Ludlow who was a Litho trade. Mick was the only Litho tradesman who accompanied we five Field surveyors when posted to Singapore on October 1962. On the left of that group is a young Steve Fulford, wearing spectacles. This places the photograph as mid 1963 as Steve arrived with us in Kuching circa August 63, after attending a five week Malay language Course at Nee Soon.
From Bill Powell, middle foreground with beret & beer is Bob Percival

Additional names from Mike Ludlow
To Steve Fulfords left is Pete Hogarth then Ian Smith, myself (Mike Ludlow) and 'Spanner' Bradley.
It certainly is Chris Robbins behind Slim Donovan, then sitting on the wall is Howard ????, and Lofty Woolf. Behind Loftys right shoulder is Nick Cheesman.
Another view of the air survey office, 1964. L/Cpl Hyde ( Can't remember his first name ) on the right.
It is Jim Hyde, next to him Al Gordon, extreme left could be Percy Kimber, the other two I can't say
Albie
From Bill Powell, could the 2nd from left be Roy Isherwood?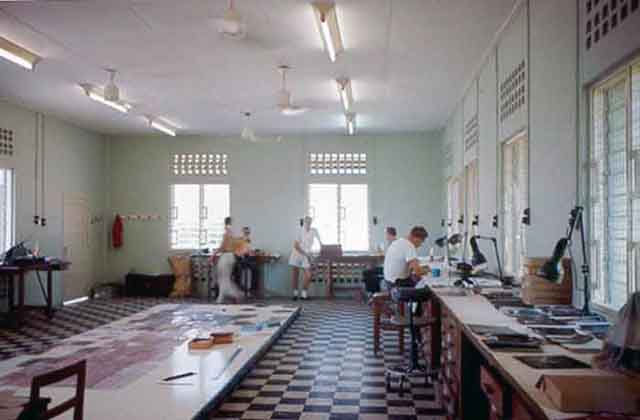 Air survey office, Dover Road, 1964. Note slotted template board on floor.
With thanks to Bud Moon for this contribution.