Map Supply in Egypt and Cyprus
By Nick Carter RE

I was posted as Chief Clerk to 2 Army Field Survey Depot RE in Fayid October 1954. The unit was accommodated at Sobraon Camp, which also housed another Military Survey unit 42 Svy. Engr. Regt. RE. The role of '2 Depot' was storage and distribution of the many millions of maps required by units within Middle East Command. The establishment, at that time, was one officer (Captain or Major),1 WO Class 1, 4 Sgts. and circa 50 other ranks. It was about the time of my arrival that planning for the move from the Canal Zone to Cyprus was finalised and it became known that the 'Depot' would relocate to Polymedia in Cyprus. This was indeed welcome news to me for the Canal Zone married Quarters accommodation was almost nil, whereas in Cyprus hirings were available that would enable families to join their husbands. To this end I took a week's leave in April and went to Cyprus to Golden Sands Leave Camp just outside Famagusta and was able to reserve accommodation for my family in Larnaca, right on the sea front in the Turkish quarter of the town. Over and above my duties as Chief Clerk I was selected to be the advance party to Cyprus which was scheduled to take place from July '55 onwards. I moved to Cyprus in May '55 with one Sapper and a 1.5-ton Bedford truck. We were to be temporarily located at Dekhelia with CRE Dekhelia. The roads of Cyprus then were not like the roads of today. In the main they consisted of a single-width tarmac strip with a rolled stone shoulder for vehicles to pass. It was not uncommon to come across an accident involving two Cypriot drivers, neither of whom would give way. My task was to organize the receipt of the depot's stocks of millions of maps to the temporary location. This would seem straightforward but true to form things were not straightforward. To start with the accommodation at Polymedia was not ready so the maps were to be stored at what is now Larnaca International Airport, but which was then no more than a collection of corrugated iron sheds. All went well until November when it started to rain. Our location being on the edge of the salt lake meant that it was prone to flooding. When this became a problem duckboards had to be obtained from Engineer Stores depot at Famagusta, laid out in the corrugated iron huts and the maps moved to put them an inch or so above the water. As if this wasn't enough the Suez Crisis had started to develop, which meant extracting maps and packing them for the use of the units expected to arrive. I was assisted in this by a further six Sappers and a L\Cpl. plus 25 Cypriot labourers. Whilst all this was going on EOKA had stepped up it's activities and on several occasions my family were stoned by local school children. In addition to the technical work, I was also required to take part in street patrols at night in our local area.
Eventually the new accommodation became available at Polymedia and the maps at Larnaca were moved to their final destination. Just before this move was completed I was again posted to another Military Survey unit, this time 47 GHQ Svy. Sqn. RE, based at Episkopi. This meant a move for my family from Larnaca to Limmassol. Once again the accommodation for the unit was not ready and it operated from a complex of Nissan huts on the edge of the cantonment. The role of the unit at this time was to coordinate the mapping requirements of MELF. To the best of my recollection, the establishment was split in two - GHQ Advance in Nicosia and GHQ Rear at Episcopi. I am not sure of the establishment but it included a full Colonel , a Lt.-Col., several Majors and Captains, a Lt. , two WO2s, a Staff Sgt. and about 20 other ranks. At this time the Suez Crisis reached its peak and up to date mapping details were often flown out from the UK by Canberra to Akrotiri to be picked up direct from the pilot and taken to 42 Svy. Eng. Regt. at Ziggi to enable the latest maps to be made available to troops on the ground within hours.
Looking back life was indeed hazardous for the servicemen and their families. Nowhere was safe, not even the Governor's bed! The new Sgts. mess at Episkopi was burnt to the ground. Travel to and from Nicosia to Epi by senior officers was undertaken by helicopter. Commuting to Epi from Limmassol was preceded each morning by an armoured car to try to suss out any roadside bombs, like the one that killed the Sappers at Polymedia. Despite all the forgoing life was not all restrictions. There were safe beaches for relaxation and mess activities were continued, if on a reduced scale. As new married quarters became available, we moved yet again, this time to Episkopi were we remained until we headed for home in Sept. '57 on board the Dilwara.
The pictures relate to the killing of a 35 Engr Regt cricket team and the subsequent funeral at B M C Nicosia.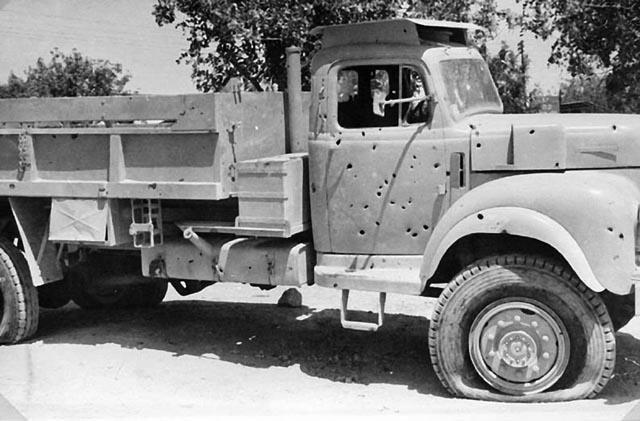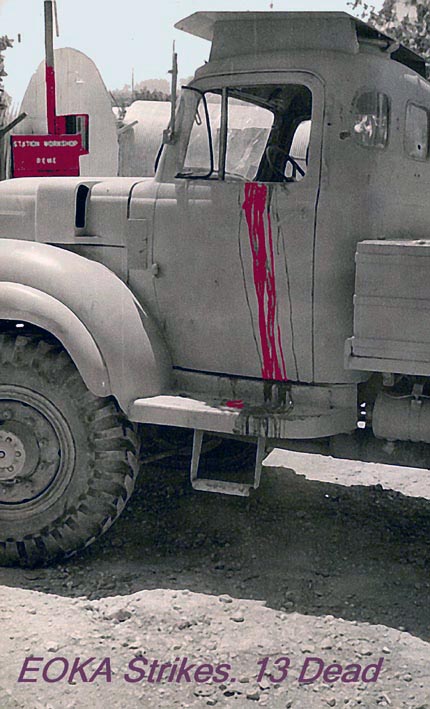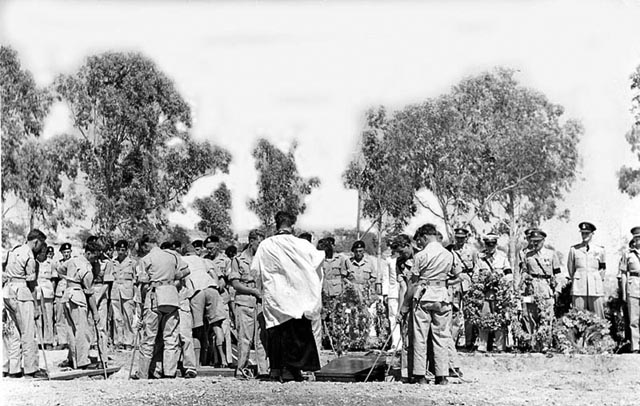 Cyprus was somewhat different to other mini wars, which were of 'Them & Us' situations. We were there for our own reasons. The Greek majority wanted the island to be administered by Athens and wanted the Turkish minority to go back to Turkey. We wanted to stay and the Greeks wanted us out. The Turks wanted to stay, hence EOKA. In the end a fragile agreement was reached and apart from the base areas, we left. What happened after that is history. The 'Green Line' was nothing new. I often wonder if it was coincidence that the Turkish Army stopped at a line I had seen on a map in 1957.
Nick Carter
This page was originally published in the Britains Small Wars site in Cyprus, it is reproduced here with their permission, many thanks.