50B Harrogate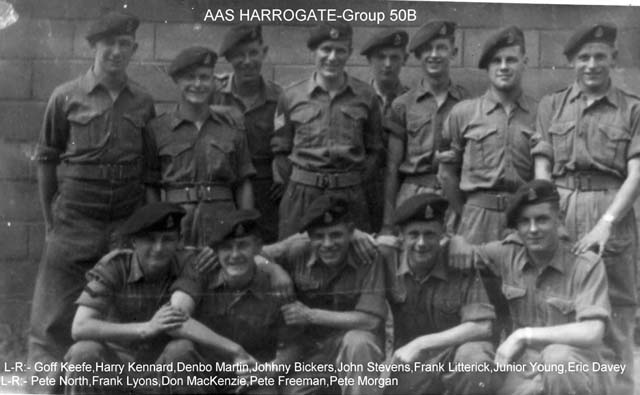 Photos Courtesy of Eric Davey
Annual Lunch Reunion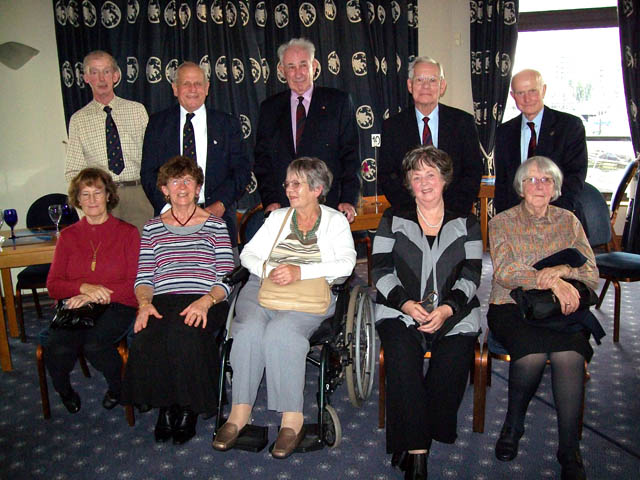 Left to Right: Frank & Rosemary Litterick, Eric & Jan Davey, Geoff & Ronnie Keefe, Don & Nan McKenzie, Harry & Monique Kennard
The group held it's first reunion in Southampton 1990 (40 years) at which 8 attended. 2000 (50years) again 8 attended and in 2010 (60years) we were down to 5. With dwindling numbers it was decided to have an Annual reunion lunch in Southampton every year. 5 members with wife's attended in 2011 and this years the same 5 as the photograph above.
We meet at The Royal Southampton Yacht Club on the last Sunday of September.
During their service the following was achieved - 2Lt.Cols - 2 Capts - 2MBE's and 1 BEM. Those who completed their 22 years or more retired as Warrant Officers Class 1.
50B had 13 tradesmen who passed out from Harrogate and completed Sapper training - what happened to the remaining 8 is chronicled below.
ALBERT (Junior) YOUNG - left the Army in the late 50 ' s, remained in his home town of Newcastle where he died from a brain tumour in the 70;s.
FRANK LYONS - left the Army in 1 974 , moved to Johannesburg where he worked for a mining company as a cartographer and died from bowel cancer in 1994.
JOHN STEVENS - commissioned with RE Survey and transferred to the Royal Army Pay Corps where he remained until 55 years of age. Died at his home in Newbury of a heart attack in July 2008.
DAVE HERRIOTT - Left the army on his 15 year option in 1968. Joined Hunting ' s Survey and later formed his own company Hydrographic Services International Ltd. After a long illness he died at home with his family in April 2010.
PETER (MOGS) MORGAN - left survey after basic training, took a regular commission in the corps and retired as a Lt.Col. Died of motor neurons disease in February 2011.
DENNIS (DENBO) MARTIN - commissioned with RE Survey and on retirement joined 135 Survey Sqn as a Captain . Became Commanding Officer with the rank of Lt.Col and during this period was awarded his MBE, after several years of ill health he died of vascular dementia in October 2010.
PETE NORTH - decided to leave Survey, moved over to the general roster and was discharged after completing 20 years service (no pension). It is understood he went to Australia to join his brother who had his own building company. No one has been successful in contacting him.
PETER FREEMAN - also left survey after completing basic RE training and transferred to the Army Physical Training Corps. He currently lives in Harrogate.