Which Unit, Where, When, What Occasion and Who are they?
13 Sqn in 1964, Aden
I think it was taken when 13 Sqn's band came up to the Radfan to play for the troops on active service.
Can anyone please supply a name.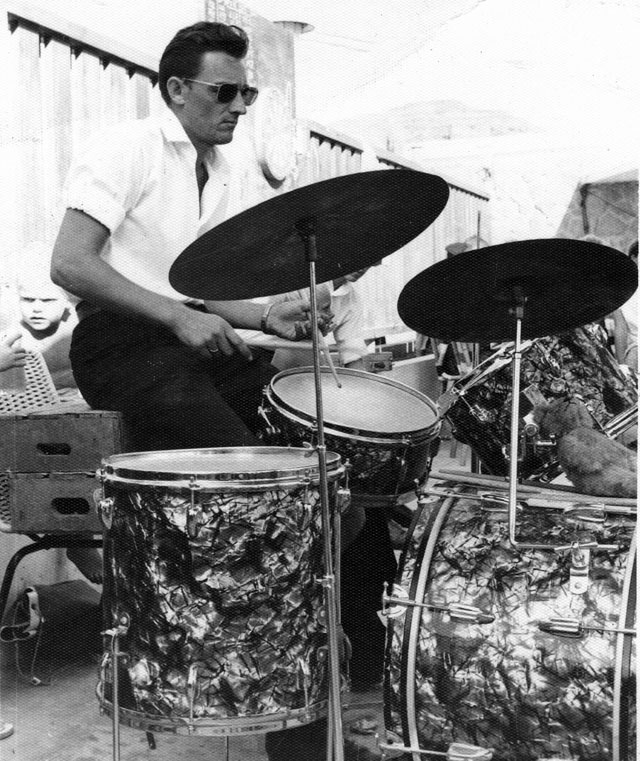 Fernhurst
I am the Son of Gordon Whitter, who served in the Army in 1959/1960/1961, he was based in Fernhurst Barracks during this time, as a Sapper, he also worked in the nearby Duke of Cumberland pub.
I'm planning to take him back the area in a few weeks' time (22 nd May 2015) for a weekend just for a trip down memory lane, He is now 76 and always mentions the area and that those years were the best years of his life.
My question is, is there anyone you know who was at Fernhurst at those dates, that maybe still lives in the area at all? I fully understand that this is a long shot but it would be great if there was and they could possibly meet up at some point.
Newly discovered photos - maybe 1 ASLS in Cyprus. If you can help identify them please let the editor of the newsletter or the webmaster know.
Regards Michael Whitter email: michael@azteccolourprint.co.uk
---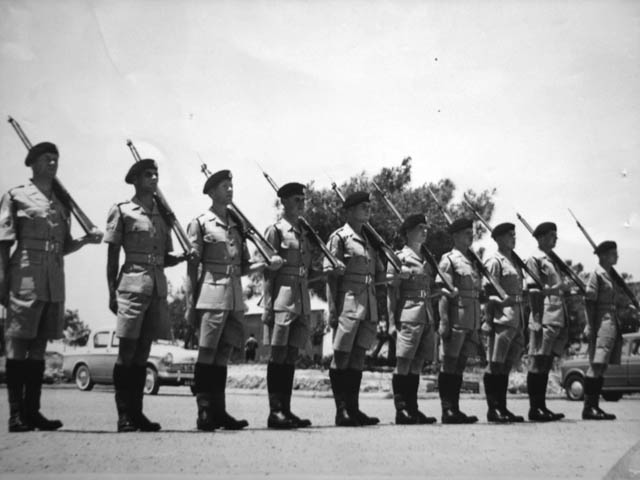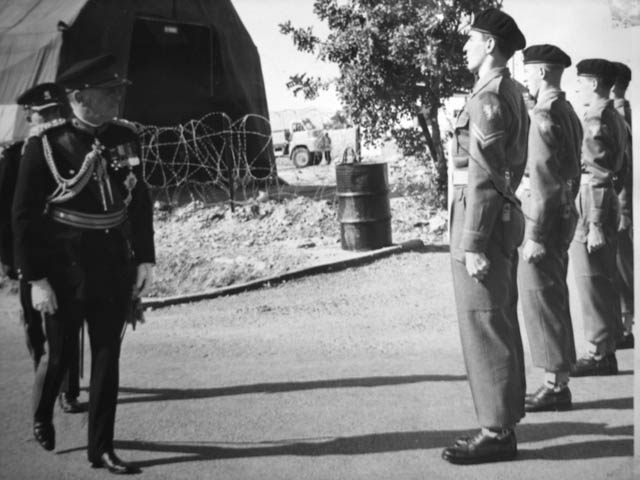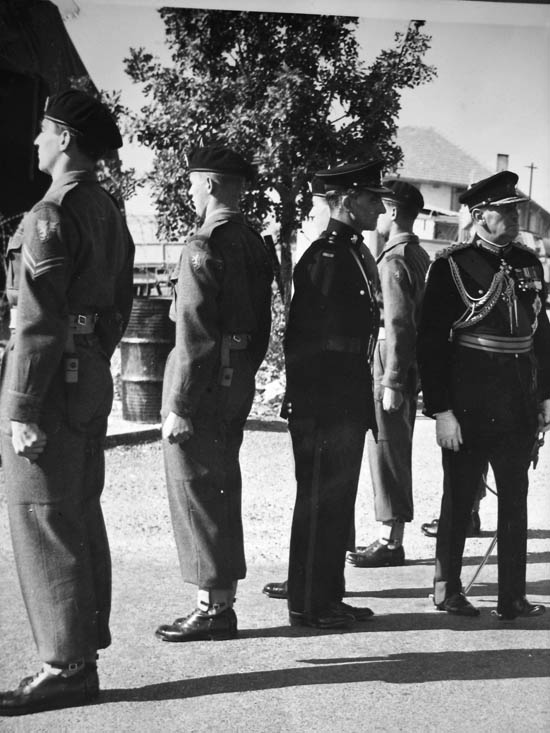 ---
I'm the son of an old 42 regt soldier, he was scouse considine (dan). he is also seen in one of the newsletters as the pirate in peter pan at barton stacey in the 60's. He was a corporal in the engineers but died recently, since then I have found an old pic of him and some comrades, if anyone recognises anyone then please let me know. He was also the reg't football coach and I also remember some time in the early 60's living in cyprus, then we moved to roberts road barton stacey.
dconsy@ymail.com . Danny Considine.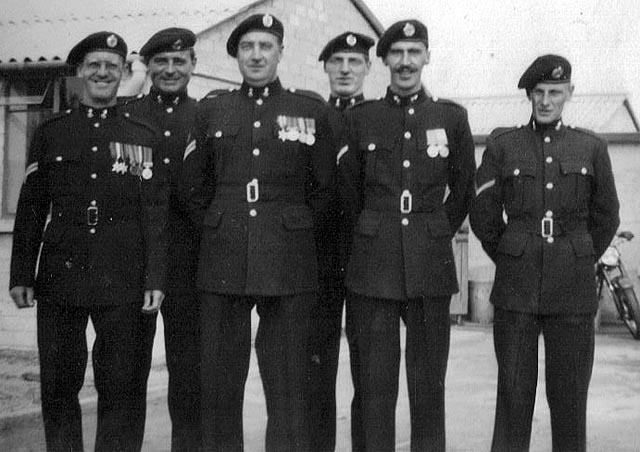 ---
A thought occured to me some while ago having spent many moments checking out the survey web pages. The School of Military Survey was the title for the establishment/camp. On the regimental board by the main gate it stated "89 Survey Training Squadron" above the Corps badge. Below the badge was the title "School of Military Survey". The web site makes no mention of this. When the unit was mustered to parade on the square it was addressed as "89 Survey Training Squadron", then called to attention. I have no recollection of a parade being addressed as "School of Military Survey". Also mail received by serving personnel was addressed to "89 Survey Training Squadron, School of Military Survey". Due to the passage of time this seems to have been overlooked. I hope you may consider this to be of significance.
From Mike Chaplin. Has anyone any further information on this please.
---
I was very interested to read the article from Peter (Harrogate 47B), as I myself was a member of 47B and followed a like path to Peters until our ways parted after pass out at No 1 TRRE at Malvern. ... Unfortunately, I do not recall coming into contact with Peter, (but I am sure I must have done as there were only 87 of us initially), as I was not undertaking
training in Survey work myself, and only remember those from 'Survey' who were in close proximity to me through billeting arrangements. ...

His memories of his 'stay' at AAS Taunton, however, seem rather sketchy, but then I still have four issues of the "Manor Review" (the AAS's term journal), plus two issues of "The Harrogate Apprentice", to help jog my memory. ... In fact, I tend to remember more detail about my stay at Taunton than I do at Harrogate, but then, we spent more time at Taunton
than we did at Harrogate, which brings me to the purpose of my Email. ... Two amendments I would like to suggest here to Peters story are:-

1) The Army Apprentices School at Taunton was housed in "Norton Manor Camp" and not 'Cothelstone Camp', and,
2) AAS Taunton was in operation from early September 1947 until July 1949 - a little longer than the 'some months later' that Peters narration would suggest. ...

In no way am I being critical of Peters story - just trying to improve it with some factual amendments - and I can expand further on the article if required, but, unfortunately, not about the surveying aspect, except what I can glean from the above mentioned journals. ...

This is the first web site that I have come across which provides some detail of the Army Apprentices School at Taunton and the first time that I have come across another person who was in the same intake as myself - quite remarkable after all this time. ...
Regards, John H Howell

Posted 2 December 2010
---
Reading Denis Carrington's recent contributions I am perplexed. He was posted to SMS in the early 1950s referring to SMS as Denison Barracks. During my six years as Sergeants Mess barman I do not recall the camp ever being called that. Perhaps someone out there can shed some light on this matter.

Kindest regards, Mike Chaplin - posted 21 November 2010.
---
I found this in an old battered magazine. I believe c1954 of Trig Surveyors at AAS Harrogate, anyone recognise them?

Roger Jones - posted 21 November 2010.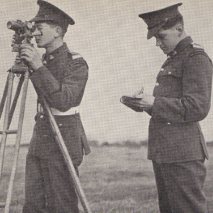 A/T A.S. Fisk and A/T W. Reid
---
Some years ago I transcribed 2 Troop 13 Sqn's 'War Diary' from their sojourn in The Radfan, Aden in 1964. Due to a computer crash, I lost the lot. Thanks to Alex Johnstone and Philip Robinson I have now received back a copy of my original work. If there are any of our troop out there who would like a copy, I should be pleased to forward one. Makes for interesting reading.