Regimental Dinner 1965
SMS Sgts Mess
Departure of CO Lt.Col Hansen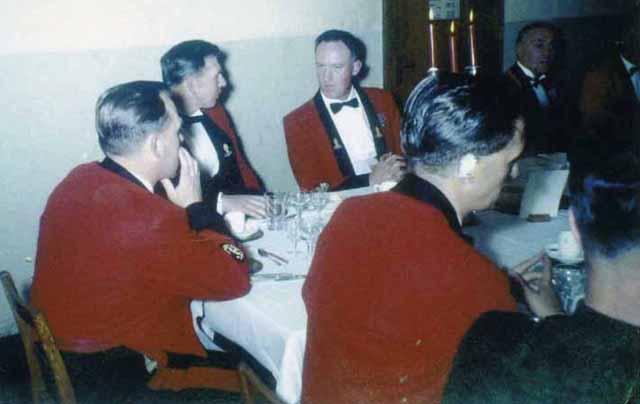 Lt Col Hansen, Jim Kennedy, Capt Himbury, Eric Passingham, Ken Garnett.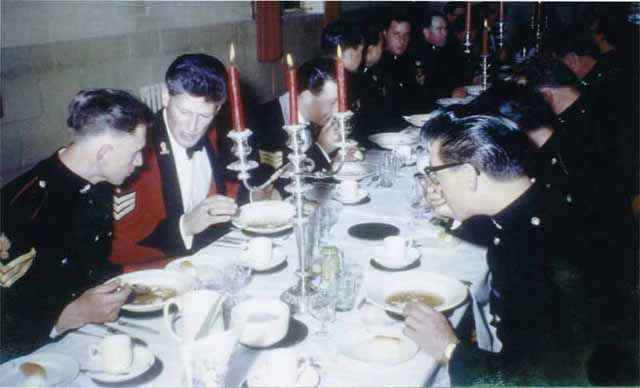 Terry Evans, Chippy Carpenter, Dave Bishop, ? ,? , Fred Jones, Bob Wyse, Dave Taylor, Frank Lyons.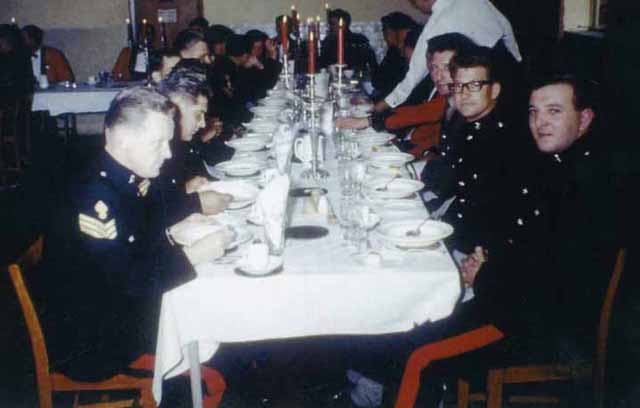 Doug Dalby, Mike Walton,Satch Payne,?,Derek Forrest, Colin Peck
Derek ?,Al Roberts, Bob Cook.
BOB EADE'S DINING OUT NIGHT - SPRING 1962

Dinner in the Sgts. Mess dining room was a collar and tie affair. Retiring to the bar mess etiquette was relaxed resulting in the discarding of jackets and some ties. And just as well for the antics that followed would have graced a rugby field, perhaps even a battle field. Blood was certainly spilled, unintentionally of course, and during the course of proceedings many knocks and bruises forced the retirement of certain participants. Some had to nurse them over the coming days. But what the heck, it was another special night in the mess. Bob Eade and incumbent RSM 'Taff Jenkins each had to slug it out in various activities egged and cheered on with enthusiasm. But all good things must come to an end and shortly before 3am Bob Eade was hoisted on shoulders and carried over to the officers mess to a chorus of raucous singing shattering the peace of the night. This distracted those on the parade ground involved in astro observations and stirred the civilian guard from there slumbers. For once they had something to report in their shift log. What could not be denied a good night was had by all.

As barman I have special reason to remember this occasion. When the civilian mess caterer arrived for work and saw the state of the anti-room he stormed into my bunk spitting venom. For the umpteenth time he had me up before the Civilian Executive Officer. Yet again it was for not closing the bar at the prescribed hour, 10.30. Also for not returning the furniture to its proper place. Given one weeks notice, I was sacked. The following day a very glum faced caterer approached me. My notice had been withdrawn, I reinstated. To this day I have no idea who brought this about, though I have always harboured a suspicion. On Saturday night RSM Jenkins made his first visit to the mess since taking office. Having served his drinks he invited me to have one. I topped up my glass and acknowledged him. Was that a wink he just gave me?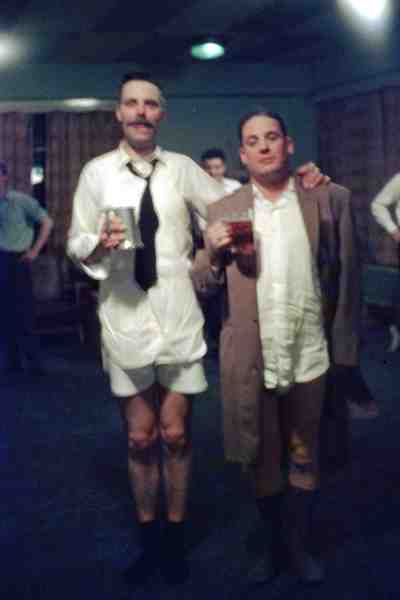 A little before 3 am. Bob Eade and 'Taff' Jenkins.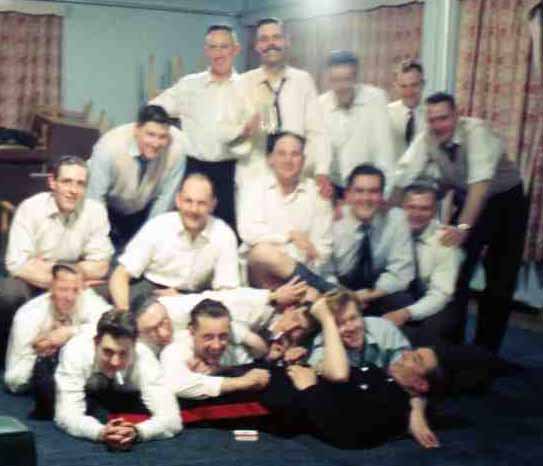 "The holdouts".
Jim Kennedy, Bob Eade, Fred Staley, Harry Kennard, Harry Gosling.
Roy Isherwood, Ken Smith, 'Taff Jenkins, Adrian Boult, Alf Burnett , Bob Payne, John Mowat, Mike Pooley, 'Jock' Watson, 'Ginger' Bootland. Mick Browning - Orderly Sergeant.
With thanks to Mike Chaplin for this contribution