The Branch Annual Award
REA Prize for 2003 - L/Cpl Kevin Wright
On Friday 9th July, L/Cpl Kevin Wright received the Royal Engineers Association (REA) Military Survey (Geographic) Branch prize from Brigadier (Retd) AEH Matthews, the current President of our Branch.
L/Cpl Wright fully deserved this prize. He is a key member of the Wooden Horse Club Committee and can frequently be seen running the All Ranks Quiz nights and still making it out the next day to play Rugby for the Regiment. Out on Op TELIC his never ending supply of energy and enthusiasm ensured morale remained high by organising social and sporting events.
Without the support of the REA, efforts like those displayed by LCpl Wright often appear to go unappreciated or unnoticed. Lets hope this example gives someone else the incentive do that little bit more for their unit. L/Cpl Wright is now due for a posting to Germany and the search will start for a candidate in time for the next presentation.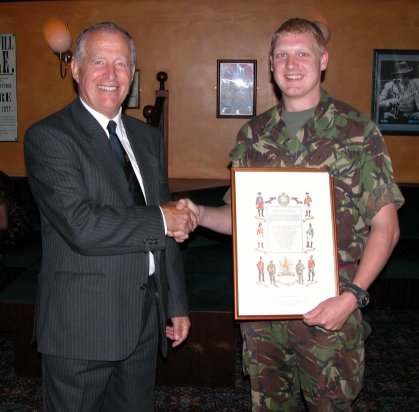 Photograph:
Brig (Retd) AEH Matthews, President of the REA Military Survey (Geographic) Branch presents the REA Annual Award to L/Cpl Kevin Wright, in the Wooden Horse Club.