REA Prize for 2010 - Spr Noton
Spr Noton has been continually relied upon to perform above his rank, with no financial reward, on various exercises and in barracks and has never failed to demonstrate enthusiasm and determination and to provide leadership, contrary to personal adversity and commitments. Whether it be on exercise, in the work place or on the sports field, he has never failed to enthuse others whilst giving his best.
Providing leadership to your peers is difficult. Due to manning shortages, 13 Geographic Squadron fielded sections, which included only 1 JNCO, into the Regimental Section Competition. Spr Noton, due to his maturity, enthusiasm and determination, was appointed 2IC of one of the sections. As the Section Commander was not available prior to the competition, he effectively prepared the section prior to deployment. At the start of the competition, the Section Commander was evacuated due to medical reasons and Spr Noton was nominated to take his place. His drive and sense of duty ensured a close knit team and enabled the section of Sappers to finish a commendable 5 th position out of 8 sections. Spr Noton was also assigned to mentor newly assigned Sappers on the Regimental technical exercise due to his maturity and potential. He immediately took responsibility and capably and enthusiastically guided the new arrivals through their first exercise.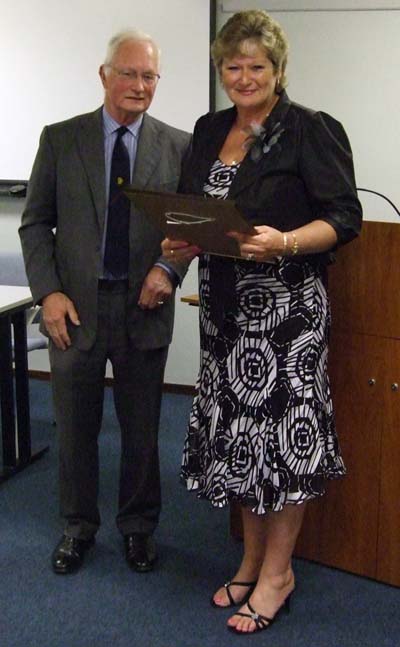 Branch President John Elder presenting the award to Jan Cording, prize winner Spr Noton's mother.
The shortage of JNCOs also affects 'in-barracks' activities as well as exercises. Hence, Spr Noton was assigned as the Troop G1098 Storeman, an appointment normally undertaken by a JNCO. He undertook his duties conscientiously, identifying various issues and addressing each honestly and with confidence.
Detached to the Joint Service Signals Unit for 4 months, Spr Noton quickly familiarized himself with his responsibilities and contributed significantly. Described as "very much a team player who impressed the various desk supervisors, he thought nothing of working outside his core hours to ensure that front-line assets received the best geographic support available". Despite his relatively junior status, he was able to confidently brief senior military and civilian visitors, conveying the importance of the technical support his position delivered.
Spr Noton's contribution has extended to the sports pitches. He has represented the Regiment at rugby and captained the victorious Squadron football team in the Regimental sports competition. Indeed, there is no better example of his ability to enthuse and inspire his peers than this; with minimal 'Regimental' footballers, 13 Squadron relied on a team ethic, which was in no small way engendered by Spr Noton.
His achievement must be put in context. Over the past year Spr Noton difficult personal circumstances to contend with as well as his wife has giving birth to their first child. In March 2010 he was warned for deployment on operations and is currently serving on Op HERRICK. None of this has affected his dedication and professionalism.
Spr Noton's enthusiasm, determination and conscientiousness have contributed significantly to 13 Geographic Squadron being able to cope with a severe lack of JNCOs. He has set the example and proven an inspiration to his peers with his unswerving dedication in extremely testing circumstances. During all of his endeavours Spr Noton has carried out his duties in the spirit of good fellowship. He is therefore very strongly recommended for the Military Survey (Geographic) Branch of the Royal Engineers Association Annual Prize.